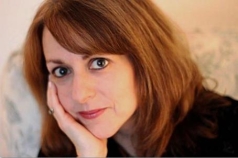 By Dr. Yonit Hoffman, Manager, Holocaust Community Services
This blog is part of the series of "Yonit's Journey: Light Out of Darkness," a narrative of Yonit Hoffman's month-long trip to Israel and Germany to attend Holocaust-related events – some public, some personal. The director of JCFS's Holocaust Services program and an authority on the psychology of Holocaust survivors, Yonit is the daughter of a Holocaust survivor and descendant of Holocaust victims. See links to other posts at the end of this post.
This is my second time coming to Germany. And, again, I feel an intense ambivalence and strange mixture of anticipation and apprehension. When I came three years ago, I wrote about this same feeling:
"In a million years, I never thought I would be on a plane on my way to Germany.  I grew up with a powerful and clear message; 'We don't buy German,' we write 'No Krups or Braun' on our wedding registry, and we certainly don't go to Germany.  When we have strayed from this edict and bought German, like our now defunct Bosch dishwasher or my grandfather's used Mercedes 'lemon,' we are punished by dishes that don't get clean and motors that need to be rebuilt. The reason? We are a 'Survivor Family' with all that means, all that comes with that identity.  And that also happens to be the exact reason that I am on a plane to Munich right now.
What catches me by surprise as we begin our descent is the intensity of emotion that hits me – a mixture of anxiety, curiosity, sadness, maybe even anger. Mostly it's a wave of I-don't-know-what's-hit-me.  Oddly enough, the feelings trigger a memory of feeling a similar unexpected wave of emotion on a flight more than 30 years before – when at 17, I landed in Israel for the first time since I had left at the age of two and a half.  Perhaps it is the returning to what once was, perhaps it is the connection to my father – back then and today.  After all, he is the reason I am here."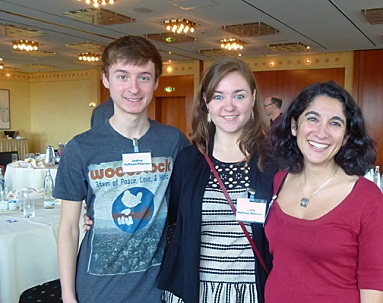 Caption: First breakfast with our Hamburg group.  Joshua, Ariella, and our new friend, Yolanda, from Spain - one of ten members of the family of Moshe and Rudi Wolff, who left Hamburg in the late 30s.
This time, on the flight to Hamburg, I'm sitting next to Joshua, my 16-year old son who was not able to join us when we came three years ago with my husband, Paul, and my now 20-year-old daughter, Ariella. Joshua also voices some of the strangeness of flying into Germany. We both contrast the feeling of excitement and celebration on landing in Tel Aviv, as we did together last year. Later I will explain why I came to Germany on that first trip three years ago and why next week we will be revisiting a tiny town in Bavaria once again. But first, we have arrived in Hamburg, my father's birthplace and his home until he was 18.  On November 8, 1941, he and his family were deported to the Ghetto Minsk in Belorussia.
Ryman, a representative from the "Senate of the Free and Hanseatic City of Hamburg" is holding a placard with our names as we exit customs.  He guides us to a shuttle which takes us to the Hotel Steinberger. The Senate has been inviting Survivors from Hamburg for a return visit to the city for many years, but only recently has included the second generation – the children of "former citizens of Hamburg" – to this unusual program. Upon arrival at the hotel we meet Carola Kollmannsberger, the organizer of the program, and receive the schedule and materials for the week ahead. Immediately we turn to the list of other participants, eager to see who else will be here this week, where they are from and what connections we might make.  There are about 30 others, survivors and families who now live in the USA, Israel, Spain, Czech Republic, and Uruguay, but who all have Hamburg roots. Tomorrow morning we will meet them for the first time.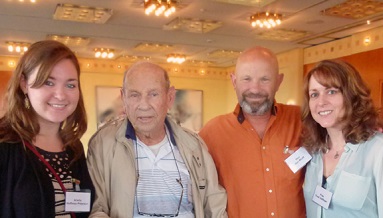 Caption: Moshe Wolff (second from left), who now lives in Israel and his son Ilan who lives in Spain. Moshe launched his book about his experiences during the week of our program.
As we gather the next morning in the lobby, I see that most of us are glancing at name tags, perhaps deciphering relationships, and then gravitating to those who speak our language – in my case, to the Israelis and Americans. We begin to share bits and pieces of our stories, using the shorthand of our connections. Who was from Hamburg? They got out? Deported? How did they end up there? Where were you born? Is this your first time in Germany?
We have breakfast together in a private room at the top of the hotel, and although we are overlooking a pretty canal and beautiful shops and cafes, we take turns telling brief stories about the ugliness of this city, of this country, 80 years ago when Hitler came to power.
Most are stories of childhoods in this once lovely city; of the rising anti-Semitism; of the shock and fear of Kristallnacht in 1938; of the growing urgency to get out; of narrow escapes before the deportations began; of circuitous trips to countries around the world, and of the lives and families made after the War.  Of the 10 families represented, most managed to escape in the mid- to late 1930s, although many lost grandparents and family members.
There are two others who speak of not getting out in time. One elderly man, here with his Israeli wife, was deported with his family to the Riga Ghetto, along with the famous Rabbi of Hamburg, Joseph Carlebach, who was killed at Riga.  This man was one of a handful of survivors of that ghetto. He has been to this program before and, in fact, he and his wife have decided to live several months a year in Germany, despite her initial reaction of "how can you ever go back to the place that took your family?"
Another Survivor, here on his own, now 88 years old, was sent to Theresienstadt and Auschwitz.  His father had been deported to the Minsk Ghetto on the same transport as my father and his family, and his father was killed in the ghetto in July of 1942, as was my grandfather.
When it is my turn to speak, it is difficult and emotional. It's hard to find the right few words to explain why I'm here, but I want to tell the group that I'm here for the past and the future. To try to capture a small piece of the past that belonged to the grandparents and uncle I never knew, and, even more so, to the father I barely knew.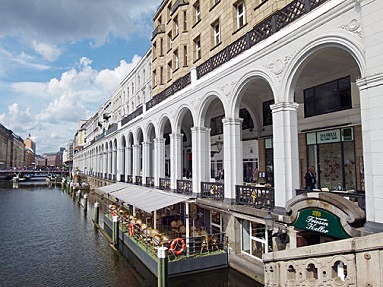 Caption: Everywhere we looked, we saw the elegance of design, in the architecture, the layout of the city, the serenity of nearby water and parks-- and we could imagine my father, his family and others having once enjoyed and appreciated it as well.  Of course, these thoughts were always shadowed by the knowledge of what it must have been like to be ripped away from this life - how impossibly hard to believe and to bear.
As for the future piece, I watch as my daughter stands up after I speak, as she notes that she and my son are the youngest in the group, and that she, too, wants to make her own connections to the grandfather and family she will never meet, and that she is looking forward to sharing this with her brother and to getting to know others with similar stories. As another daughter of a survivor verbalizes a few minutes later, we are also here to affirm the triumph of our parents to live through it all, to live on, and to have families of our own who will thrive, but never forget.
 Read the full series of blogs about Yonit's Journey
Looking Further Back – Holocaust Survivors and Families Meet in Hamburg