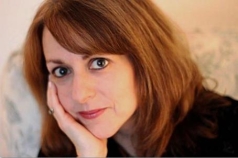 "Yonit" is a Hebrew name – literally "dove of peace" – given by Holocaust survivor Gershon Hoffman to his daughter when she was born in Israel.
Yonit, who lost her grandparents and uncle in the Holocaust, grew up to become a Jewish Child & Family Services manager of the Holocaust Community Services program, a joint effort of JCFS Chicago, CJE SeniorLife, and the Jewish Federation of Metropolitan Chicago.  It is one of the busiest and most important social service programs in the Jewish community.
A Ph.D., Hoffman also researches the resiliency exhibited by Holocaust survivors like her father and whether that trait is passed along to descendants.  She will present a paper on the subject this month in Israel at a conference devoted to Holocaust-related research.
From her birthplace, Dr. Hoffman will travel to Hamburg, Germany, where her father resided as Gerhardt Hoffmann before the Holocaust.  She and her family will attend a gathering of Hamburg Holocaust survivors and their descendants.
"This is a particularly important gathering, because there were so few Hamburg survivors of the Holocaust," she said.
In the journey's final, most personal chapter, Hoffman and her family will travel from Hamburg to Flossenburg, Bavaria, where her father was imprisoned in a concentration camp. There they will meet with the family of Anton Sailer, a non-Jewish man who at the risk of his own life helped Gershon Hoffman survive the Holocaust by smuggling him food.
"My father worked outside the camp at a railway station," she said, "and Mr. Sailer lived across the street. When the Nazi guards weren't looking, Mr. Sailer, just a boy then – and with the help of his family – would toss my father pieces of bread."
Hoffman's month-long journey will shed many kinds of light on the Holocaust, described by philosopher Emil Fackenheim as "what may justly be called the greatest crime in history."  It was the Nazis' effort in the 1930s and 40s to commit genocide against the Jewish people – the dread "Final Solution" – and to annihilate gypsies, artists, homosexuals and Slavs.  It was one of history's darkest chapters, but Hoffman is devoted to caring for the survivors and illuminating their power.
One way of shedding light will be for Yonit Hoffman to blog the story of her trip on the JCFS Chicago website.  She expects to report from Israel, Hamburg and Flossenburg about the people she meets and the emotions they stir in her while they are still fresh in her memory.  Don't miss a single account of this momentous journey at jcfs.org.
For more information on Light Out of Darkness: Yonit's Journey, contact Larry Rand or 312.673.3443.