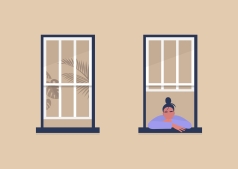 The pandemic has left many people feeling isolated and alone. To ensure that our clients feel connected to their community and faith, JCFS Chicago's Jewish community services swiftly transitioned support groups and their chaplaincy program to be virtual.
Nina Henry, addiction and mental health specialist, has been facilitating Time To Talk During Covid Times, a weekly drop-in support group for adults. The group provides a comfortable, safe place for people who feel alone or isolated to meet and talk with others experiencing similar feelings. "Starting this group has felt at times like opening the flood gates, both figuratively and literally," Nina shared. "The group has really become an important service for the participants. Even seeing their peers in the two-dimensional Zoom view has helped people overcome their sense of being lost and abandoned."
Our grief groups, facilitated by Marsha Raynes, have been essential to the community as well. Marsha offers monthly General Loss Groups for adults mourning the death of any loved one, as well as a group which focuses on the issues facing younger spouses grieving the death of a partner in the last two years. "People are feeling very isolated, so I'm glad we are able to offer these virtual groups as a way for those who are mourning to be connected and support each other," Marsha said.
Diane Halivni, coordinator of community education and support, has worked with colleagues to develop and facilitate virtual Evenings of Support for the community on different topics, including Grieving a Death During the Pandemic, supported by the Lauri S. Bauer Foundation for Sudden Loss and The Gift of Recovery. These events create a safe and supportive space for participants from across the community to learn and be together.  
Our JCFS chaplains have also found new ways to respond to inquiries for service to our continuing clients. During the summer, when COVID-19 cases were fewer and the weather was warmer, JCFS chaplains were able to meet with clients outside and in-person while social distancing, wearing masks and observing safety protocols. As winter approaches, our chaplains are still dedicated to connecting with clients on the phone and through video to provide comfort and support.
Additionally, Carol Brumer Gliksman, the coordinator of chaplaincy services, has spearheaded an effort to produce holiday videos for Hanukkah and the high holidays that feature some of our chaplains sharing blessings, teachings and music. Both videos have been posted on our webpage for all to enjoy.
If you feel isolated and are seeking support, you are not alone, and we are here for you. If you would like to speak to an emotional support professional or chaplain, call 855.275.5237. Check out our telehealth groups or calendar for upcoming events.