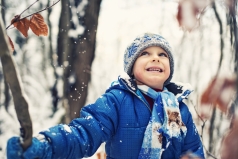 By
Rebecca Russell, MOT, OTR/L
With winter upon us, it's time for snowy day activities, holiday traditions, breaks from school and family visits. But, when your child has a sensory processing disorder it can be challenging to enjoy family traditions and special occasions together. Changes in routines and unfamiliar foods along with loud noises and winter clothing can overload your child's senses, causing meltdowns and stressful situations for the entire family.
Here are some suggestions to keep your child comfortable, safe and having fun this winter!
Cold Weather Clothing
Dress in layers

Try it tight: Wearing a compressive garment under clothes can alleviate irritation from sweaters (try Under Armour or a swim shirt). This compressive sensation can also be calming for some kids.

OR Try it loose: Depending on your child, tight layers might not provide a calming response. Loose or light-weight items may include fleece or down/down alternatives, and perhaps sizing up as well.

Consider putting on the final layers once outside, such as a hat or a scarf to

 

avoid overheating

Remove labels from clothing – including winter gloves/mittens, boots, hats, scarves – these can be very scratchy

Use a blanket or two on top of car seat straps, avoiding bulky winter coats in the car Winter Car Seat Safety Tips

Use desensitization techniques prior to putting on winter gear. For example, before putting a hat on, provide a head massage; before putting on socks and boots give squeezes or joint compressions to feet/ankles

Moisturize! The winter weather can cause dry itchy skin which may be exacerbated by layers of clothing.

 

Applying lotion can also be a great opportunity to provide your child with sensory input they need such as joint compressions, squeezes or massage.
Indoor Activities
Try an inclusive event such as a trip to the museum or a movie! Find sensory friendly events in your neighborhood. Some movie theaters, museums and local theater productions offer a "lights on" version where kids can move around and make noise.
Travel Tips
Make an activity bag with sensory items for overnight stays, and for car rides or on the plane. Here are some items to include:
Favorite toys

Something to chew on such as a chewy necklace, gum or crunchy snacks

A weighted lap pad or stuffed animal, stress ball, silly putty or other fidgets

Coloring books with scented markers

Head phones (noise cancelling or with music) to reduce sound of traffic or plane engine

It may be helpful to bring your own toiletries and toothpaste for familiar smells