Throughout the year, JCFS Chicago orchestrates a variety of annual, signature events.
These events are made possible by the support and collaboration of our donors and the community. 
JCFS Chicago Annual Benefit - A Striking Event
A big thank you to everyone who joined us for our first ever virtual Striking Event!
 
We held the drawing for our raffle prizes and Tom Bridges is the lucky winner of the culinary class with world-renowned chef Charles Webb. The cash prize goes to Robert and Nancy Miller. Thanks again for your support of JCFS Chicago.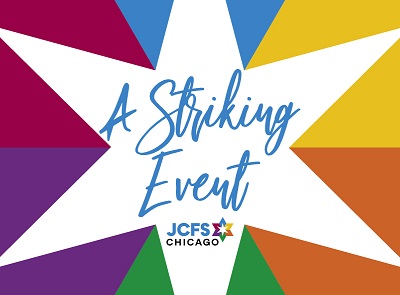 NSA Key Card Shopping Spree
Summer Key Card - August 15th-22nd 
Sponsored by our own North Shore Auxiliary, all proceeds go to JCFS Chicago.
 
NSA Dinner Dance
Join NSA of JCFS for an unforgettable virtual fundraiser featuring a cocktail class led by mixologists from KOVAL Distillery. Learn new bartending techniques and a general history of the spirits you are mixing.
Register Today!

Tuned In: The Larry Dobkin Event
Proceeds support counseling, sexual health education and leadership programs for more than 12,000 teens and their families every year. This event honors the memory of our friend Larry Dobkin, a dedicated advocate and supporter of Response for Teens.
Sunday, March 14, 2020
Virtual Event
3-5pm
Register Today!
JCFS Chicago Annual Meetings 
Come and see how your support redefined what's possible in the lives of thousands of children, adults and families throughout Chicagoland over the past year.