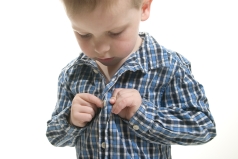 By Kristen Magee OTR/L Occupational Therapist, JCFS Integrated Pediatric Therapies
The winter months are a great time for kids to master dressing skills. With the addition of coats, sweaters, and vests to the daily dressing routine there are many opportunities to practice managing fasteners including snaps, zippers, and buttons.
Fastener Management
It is often easier to practice this skills practicing off the body to start. If your child has dolls or stuffed animals they like to play with have them practice dressing the dolls or stuffed animals. Children typically learn to unfasten first. They can first work on unsnapping, unzipping, or unbuttoning the clothes. Then they can dress the doll this time engaging a zipper, buttoning, or snapping. When learning to zip it may be helpful to engage the zipper for the first couple of trials and once that has been mastered have them work on engaging the zipper on their own. Playing "dress up" at home is also a great opportunity to first practice fastener management without the stress of time constraints. 
The Coat Flip Trick
One way to encourage independence with putting on a coat is the coat flip trick. Place their coat either on the floor, couch, or on a low table with coat facing up and tag or collar closest to the body. Have the child stand behind the collar of the coat, reach down to place arms into sleeves, and then flip the coat over the body. Kids often love this fun little trick! Try the chant: "Tag to the toes, hands in the holes, and over it goes"
Hood on First
If your child is wearing a coat with a hood try having them put the hood on first. Once the hood is in place they can then put their arms in without the coat falling down!
Sensory Sensitivity and Winter Clothing
Many children who are tactile defensive struggle in the winter months with the addition of all the winter gear.  This can make daily dressing routines a challenging part of the day. It may be helpful to create a list of items with your child that they need to have on before leaving the house. For younger children this can be in the form of pictures. This will help set the expectation for getting dressed in the morning.
Some children may prefer to dress in layers instead of wearing a coat which makes them feel restrained. Some children may also prefer sweaters or coats with loose collars. Some children have also benefited from wearing an undergarment that provides deep pressure such as swim shirt one size down from their regular size. For some, this added bit of pressure can be calming. It is also helpful to remove tags from coats, sweaters, and the like. The sensation of a tag brushing against their skin can be highly irritating to children who are hypersensitive.  It may also be helpful to use seamless socks. Some children who are hypersensitive may be more inclined to certain types of fabric. They may prefer softer fleece type materials as opposed to a wool blend.  Try to determine which type of fabric your child is most comfortable with.