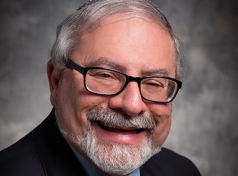 What do Jewish chaplains do? The same as any chaplain, regardless of religious denomination. They care for the living, counsel those in need, or the most sacred work, honor the dead. Chaplains provide spiritual help and care for people who are suffering and need that type of support.
Rabbi Joseph S. Ozarowski, D. Min., BCC is the Rabbinic Counselor and Chaplain at JCFS Chicago. He is also President of Neshama: Association of Jewish Chaplains (NAJC), the professional organization of Jewish chaplains worldwide.
NAJC promotes the highest standards of training, certification, and delivery of care by providing ongoing education, training, and certification in the field of chaplaincy.
Chaplains do not only work with Jewish family service agencies in their communities. Members serve in a variety of settings including hospitals, nursing homes, and homes for the elderly, as well as police and fire departments, military services, and prisons.
"I became a board-certified chaplain in 2012, a little over 10 years ago. For me, the professional training piece is extremely important," said Rabbi Joe.
Clinical Pastoral Education (CPE) is considered the official and accepted training for Health Care Chaplains. Board Certification requires a rigorous process including 1600 hours of professional training in CPE. The training is done in a cohort of students and usually takes place at a healthcare facility, since chaplains are most likely to offer spiritual counseling to hospital patients.
After the first week of orientation, CPE students begin visiting patients. The main skills students focus on are empathetic listening, reflective discussion, and group processing skills. The latter skill is where the more scientific aspect of chaplaincy comes into play; in the group, the students each bring back verbatim accounts of their visits with patients, and they discuss it with the cohort.
"A lot of this resembles social work training, but we don't do any sort of diagnosis or therapy. We are essentially part of the care team at the hospital," said Rabbi Joe. "Our job is to help people work through questions of meaning and spirituality when they are facing immense pain and sickness. Our goal is to help them maintain peace with themselves while they go through medical treatment."
Chaplains do not seek to proselytize, convert, or otherwise convince others of a particular religious or spiritual conviction. Instead, chaplaincy is cognizant of and responsive to cultural and individual differences in all forms.
The true job of a chaplain is offer support, counseling, and spiritual guidance to people facing some of the most difficult challenges life has to offer. The more people know who chaplains are and what they do, the better they can empower people facing serious issues.
To learn more about JCFS Chicago's chaplaincy services, visit our website.