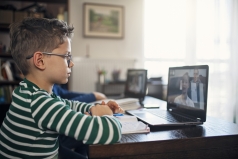 Jody Miller, MA CCC-SLP
"I wasn't trained to do this!" Over the past couple months of the COVID-19 pandemic, these oft-spoken words have been heard from teachers adapting their lesson plans to be taught totally outside of a classroom setting. 
These same words are also frequently spoken by parents, who are suddenly responsible to help teach their children and provide more hands-on therapy than they may have ever done in the past.  Mix in a child who doesn't love learning through a screen and the task seems even more daunting.  Despite the struggles faced in this new era, there are a variety of ways to make the experience more successful. 
Setting up the environment
School-aged children are used to having a locker or cubby where they keep their supplies.  A bin or container where pens, pencils, papers and workbooks can be stored helps kids stay organized and able to quickly find their materials.  Items can also be stored in backpacks, much like they would during the school year.  Having a designated space to work in a specific room, whether at a table or desk, provides a setting that is conducive to learning.
For little ones, who are more likely to be found playing on the floor, a blanket or mat set out before therapy sessions can be helpful for defining their play space.  It can also be helpful for reminding you where the camera is, so that less maneuvering of devices is necessary during sessions to keep kids visible on the screen.
Reducing distractions
Screens are everywhere these days, being used both for work and play, school and therapy.  While necessary for staying connected, it is important to keep other screens to a minimum during therapy and learning times.  Having phones accessible or televisions turned on can make it more difficult for children to learn and pay attention.  Involved family members provide a great opportunity for carryover and generalization, but other adults and siblings walking in and out of the designated space and not staying to participate can be distracting. 
Setting schedules
Schedules are always important, and even more so in this time when it's hard to remember what the day of the week is, let alone the date.  For young children, a schedule can be as simple as showing a couple of pictures to talk about what is going to be happening during the day.  For older kids, schedules may be more closely linked to set class times or online learning structure.  Let children help make the schedules and give their input whenever possible.  Also, remember to schedule in free time in addition to therapies and learning time!  Kids needs breaks.  Just like schools have recess built into their days, add breaks for your children between learning and therapies.
Redefining your goals
Be realistic and ready for therapy to feel different than it has in the past.  There are times when goals that were set won't be as appropriate or possible to work on at home, but remember, that is okay.  Use teletherapy as an opportunity to work on other skills and routines in the home environment.  You should feel comfortable sharing new concerns that arise, and discussing those with your therapist so that goals can be modified to meet current needs.
We are living in an unprecedented time that has posed numerous challenges to families around the world.  Virtual learning and therapies are new to many families, but you are not alone.  Integrated Pediatric Therapies is here to help.  Whether setting up schedules, providing structure in the home or offering new strategies and parent coaching, we are here to support you so that you feel like you were trained to do this. Call 847.412.4379 or email us to schedule an appointment.