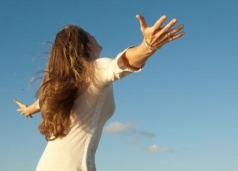 by Dr. Beth Fishman PhD
Manager, Addiction Services
September is National Recovery Month, therefore it seems a good time to ask "what is recovery?"  The addiction services at JCFS Chicago serves Chicago's Jewish community by raising awareness about addiction issues, educating on addiction, prevention and treatment, referring community members to recovery resources, and supporting Jews in recovery.  So it is equally fitting that addiction services would bring this question to our community.
According to a 2004 poll conducted by the recovery advocacy group Faces and Voices of Recovery, most people think of recovery as the attempt — and typically, failure — to get well. (1) Others may define recovery simply as abstinence from the alcohol/other drugs or addictive behaviors that have caused difficulties in one's life.  
The many millions of individuals in recovery and the many thousands of professionals working in the recovery field have vastly broadened recovery's horizons.  The messages inherent in the following definitions of recovery explore realms far beyond abstinence.
-The Betty Ford Institute's professional working group defined recovery as "a voluntarily maintained lifestyle characterized by sobriety, personal health, and citizenship" (2)
-Substance Abuse and Mental Health Services Administration (SAMHSA) published this definition:  "Recovery is a process of change through which individuals improve their health and wellness, live a self-directed life, and strive to reach their full potential." (3)
-The National Council on Alcoholism and Drug Dependence has stated that  "…recovery is a complex and dynamic process encompassing all the positive benefits to physical, mental and social health that can happen when people with an addiction to alcohol or drugs, or their family members, get the help they need. (4)
Individuals in recovery have put forth definitions of recovery that are personally meaningful.  The Alcohol Research Group (5) interviewed dozens of individuals in recovery and distilled 39 components common to the responses, including:
Recovery is being honest with myself.

Recovery is living a life that contributes to society, to your family or to your betterment.

Recovery is being the kind of person that people can count on.

Recovery is striving to be consistent with my beliefs & values in activities that take up the major part of my time & energy.
Floyd P. Garrett, M.D. of the Behavioral Medicine Associates suggests that  "(r)ecovery at its simplest and indeed in its essence is…the recovery of life and of freedom.  Recovery, in other words, is about increase, addition, augmentation, expansion, health and growth. It is about liberation and freedom from the progressively totalitarian and constricting demands of addiction."  (6)
Within these definitions of recovery we can glean the presence of hope and resilience.  A person's recovery is built on his or her strengths, talents, coping abilities, resources and inherent values.  It is holistic, addresses the whole person and their community, and is supported by peers, friends and family members. (7)
Recovery involves us all; those consciously working toward healing our lives and revealing everything we were intended to be in our lives…as well as those engaged in the passionate, life affirming work of supporting such efforts.  
References
1. Time Magazine Sept 20, 2010  The Addiction Files: How Do We Define Recovery?   Maia Szalavitz 
2. Special Section: Defining and Measuring "Recovery".  Special article What is recovery? A working definition from the Betty Ford Institute.  The Betty Ford Institute Consensus Panel.  Published in Journal of Substance Abuse Treatment 33 (2007) 221–228
3. Substance Abuse and Mental Health Services Administration 2012
4. The National Council on Alcoholism and Drug Dependence Jul 24, 2015
5. arg.org/news/innovative-study-polls-9341-people-redefines-recovery-2/
6. bma-wellness.com/papers/What_is_Recovery.html