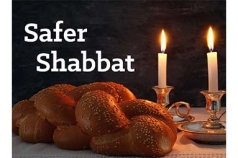 by 

Elizabeth Ury, Director of Jewish Community Engagement
October is Domestic Violence Awareness month. What does that mean? Verbal, physical and mental abuse come from all walks of life, varying age groups, all backgrounds and education levels and it occurs in all our neighborhoods, but it is not always easy to detect. It can be defined as a pattern of behavior in any relationship that is used to gain or maintain power and control.
This month reminds us to pause and be mindful of this terrible act by understanding the signs and collecting resources to help each other and ourselves. JCFS wants to be a partner in this process and has created "Safer Shabbat", an awareness Shabbat offered to synagogues with different resources to personalize a special Shabbat for October 22nd and 23rd.
Creating a safe and sacred community is an expression of our Jewish values. In working towards that sacred community, synagogues are encouraged to create their own Safer Shabbat by utilizing our resources resource page and/or bringing in their own.
Education through personal stories of strength, informational handouts, discussion questions and prayers are offered for sharing throughout Shabbat and beyond. Offering Safer Shabbat shows the importance of the topic and supports those that have survived abuse. It also shows zero tolerance for acceptance in abusing.
Please join us in making October 22nd and 23rd a Safer Shabbat. For more information visit our landing page or email Elizabeth Ury.