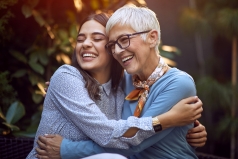 By Diane Kushnir Halivni
This year, the Jewish High Holy Days and Suicide Awareness Month coincide on the lunar calendar. In fact, World Suicide Prevention Day lands on Friday, September 10, 2021, falling squarely between Rosh Hashanah and Yom Kippur, a time when we often reflect on issues of life and death and search for meaning, purpose and identity in our lives.
These past many months, we have taken some hard knocks and its not surprising that many of us feel unsure about the future. Further, some people may feel trapped or that they are a burden to their friends, family and those around them. They may feel alone and without hope.
What foundations can we stand on this year as we embrace the emotional complexity of annual holidays and all kinds of anniversaries? How can we help ourselves and each other paint a new picture on top of last year's canvas?
According to our allies in the field of suicide prevention, the answer springs from developing three key skills: resilience, empathy, and hope.
RESILIENCE
The story of the Jewish people is a story of resilience. How has the Jewish people survived for millennia, asks Rabbi Deborah Waxman?
"One answer is that a capacity for resilience has been woven into the fabric of Judaism over thousands of years. Judaism's focus, both spiritual and practical, on helping people get on with living in the face of challenges, pain and tragedy has helped the Jewish people survive".
In a recent JCFS training, participants learned that resilience includes cultivating a positive self-view and a 'growth mindset". Developing supportive relationships that are stable and loving, that model healthy attitudes and provide reassurances when we are feeling doubtful are also part of the recipe for resilience. (If you want to hear about more ingredients, please ask us about our upcoming C.A.R.E. Ambassador Workshops).
The more we demonstrate flexibility and increase our ability to modify expectations, the less rattled we feel when change is inevitable. Knowing how to problem-solve and master effective communication are also core strategies in maintaining a posture of resilience.
EMPATHY
There is a long debate among social scientists: can you really teach someone to walk in another person's shoes? The jury is still out. Nonetheless, a clear way we demonstrate empathy is through listening. Deep, heartfelt, uninterrupted listening. This tells the other person by your body language (and by turning off your phone), you are with them in the moment. While you may not actually feel their pain or truly understand their reality, you can provide your full attention and have your eyes, ears and heart open to show that you care. You do not need to have any answers, but by giving your full self to the encounter, you model empathy.   
HOPE
Offering a dose of optimism and sharing a positive outlook can encourage a person to seek help from others, get feedback or collect advice. Sometimes through exquisite listening (empathy + resilience), a person may start to feel a shift in their understanding of the moment. When you inquire about someone's well-being (Are you okay? Would you like to talk?) you give someone hope and play a role in making a difference.
In looking ahead to the new Jewish year of 5782, World Suicide Prevention Day reminds us that everyone is going through something.  We can be an ambassador of our own care and ask for help if we need, and while no single approach works for everyone,
By creating hope through our actions, we can signal to people experiencing suicidal thoughts that there is hope and that we care and want to support them.
If you or a loved one are experiencing an emotional crisis or thoughts of suicide, support is available 24 hours a day, seven days a week. Call the National Suicide Prevention Lifeline at 1-800-273-TALK (8255) or text the Crisis Text Line by texting HOME to 741741. 
If you have lost a loved one to suicide, JCFS Chicago and its staff conveys our heartfelt condolences to you. If you are seeking more support about your unique kind of loss, visit JCFS Suicide Prevention and Support for resources. If you are supporting a friend or family member who has lost someone to suicide, you can view suicide loss support information here.
Diane Kushnir Halivni is the Coordinator of Community Education and Support. She can be reached at DianeHalivni@JCFS.org or 847.745.5459.