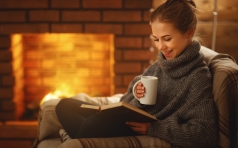 by Valerie Steinhauser, MS SLP
Being a parent can be a joyful, rewarding experience, but it also comes with challenges, particularly for parents of children with special needs. Stress can build up quickly over time, making it difficult for parents to maintain control of physical, mental and emotional states.  Life happens fast, and with busy schedules it is often difficult to find time for oneself. Resolving to set aside even 15 minutes per day to recharge can help you regain focus and be the best version of yourself for your kids.
What does self-care look like? It can be different for everyone, but here are some simple ideas that fit in with a busy lifestyle.
Making Me Time
Set your alarm 15 minutes earlier so you can enjoy sipping your morning cup of coffee while the house is quiet
Call a friend/family member
Go on a short walk or run
Read a book before bed
Journal
Meditate or do breathing exercises
Staying Healthy
Eating right, staying active and getting enough sleep will help you feel energized and ready to take on the day ahead.
No time to work out? Even simple things like parking far away, taking the stairs or going on a walk after dinner can make a big difference.
Building a Support System
Parents need to be resilient and able to keep it together for their kids. A meaningful group of friends can provide an outlet to talk openly and honestly about the challenges and rewards of parenting. Sometimes it can be helpful to connect with others through community support groups. 
JCFS provides vital, therapeutic and supportive services for children, adults and families of all backgrounds who, for example, face challenges with disruptive behaviors in children, divorce, adoption and infertility; illness, grief and loss, and career changes.  We connect individuals and families to counseling, specialized assessments, education and prevention services, and more.