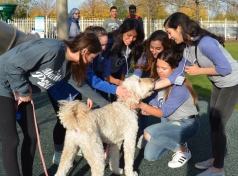 by Anna Hanuszewicz, Social Media Specialist
On Sunday, October 22, 2017, Jewish Child & Family Services hosted Mazel Paws, a family-friendly event that raised needed funds for the JCFS Therapeutic Day School. Fifty guests, 25 dogs and 25 volunteers joined us at the Joy Faith Knapp Children's Center for a fun morning that included a costume dog parade with awards and a special pet blessing conducted by Rabbi Brill.
Other activities included free dog caricatures and games like Limbo for Dogs, Musical Sit, and Dog Trick Showdown. Complimentary nail clipping was provided by the Grateful Dog of Rogers Park. Various arts and crafts were also available for sale, including gourmet homemade dog treats. Guests were treated to Kosher bagels, juice and coffee and their furry friends received a special "Bark Bag" filled with pet treats.
Three special raffles were also held with the first prize being 4 tickets plus parking to a Chicago Bulls game; second prize was a framed poster of the Chicago Cubs by Burton Tree; and third prize was a bucket filled with various dog-related gift certificates for grooming services, pet stores, and more.
How Do Dogs and JCFS Therapeutic Day School Fit Together?
Susan Schulman, JCFS Board Member and her Golden Retriever Sparky have been volunteering in the JCFS TDS classrooms for 6 years and they see the social, emotional and cognitive benefits of therapy dogs firsthand. Some of the known benefits of therapy dogs in the classroom include lowering students' blood pressure, boosting their self-esteem, encouraging more focused interaction and lifting moods in the classroom!
Sparky is a small, but very important (and well-loved) part of the engaging curriculum offered at the Therapeutic Day School; where the mission is to create opportunities for success for students with special needs.
A New Tradition for Students with Special Needs
The JCFS Therapeutic Day School represents a new tradition for students with special needs. It operates on the principle that a therapeutic environment for students with emotional, behavioral and learning disabilities requires meaningful participation from parents, mental health professionals, special needs educators, the students themselves and the community.
"There is a strong reciprocal relationship between any community and the schools that serve their children, including JCFS Therapeutic Day School," says Allison Stevens, Clinical Director at the school. "We work diligently to help our students learn to be responsible and productive community members and we rely on the community to help make this learning experience possible." Dan Nilson, Dean of Students at the Therapeutic Day School agrees, "When our community is involved in our school, we see a lot of success in our students."
The school also believes in providing a well-rounded education to students, and offers an array of services designed to yield life success as well as academic achievement. The new Life Skills Program enables students to gain skills in decision making, time management, interpersonal relationships, team building and independent living. Developing confidence in these simple skills is their gateway to launching a life of independence in the community.
Students enrolled in the Yeshiva program – an extension of the Therapeutic Day School – participate in religious classes in addition to their secular curriculum, giving religiously observant families an educational opportunity for success unlike any other in the Chicago metropolitan area.
The low student-to-teacher ratio, positive social interaction and state-of-the-art facilities help students reap rewards in ways that yield measurable marks of their development:
40% to 45% of high-school students hold jobs in the Therapeutic Day School in-school work program
At least 10% of our students re-enter public schools each year, exceeding the Chicago Public Schools benchmark
Nearly 30% of students are on the academic and attendance honor rolls
The JCFS Therapeutic Day School is accredited and licensed by the North Central Association, Commission on Accreditation and School Improvement (NCA CASI) and the Illinois State Board of Education. In addition to working with the Chicago Public Schools, the school works with suburban school districts from the North Shore, western suburbs and Lake County.


For more information about the JCFS Therapeutic Day School, call 773.467.3900.