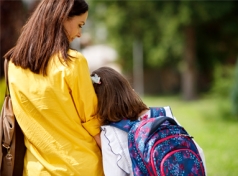 Going back to school can bring excitement for some kids, and for others, trepidation and worry. The summer-to-school transition triggers many different types of anxieties, such as separating from caregivers, new routines, and navigating complex social situations at school. The most common anxieties for older children include peer acceptance, academic performance, and navigating familial relationships.
For any child or adolescent, reports of violence at schools or in the community can exacerbate underlying anxieties, loss, and other forms of trauma. Schools have traditionally been a place of safety and learning for children, but the presence of school shootings in the media has left students and parents with new fears about their safety.  
In the age of social media, different behavioral responses to news of traumatic events include obsession, and fear of being away from family. While these are normal in the immediate aftermath, it's important to acknowledge your children's feelings and validate them accordingly. Consider these strategies for helping your student to overcome their worries as the school year begins: 
Talk about the events in a calm and age-appropriate way. It's difficult to talk about scary topics like shootings, but it's important to understand that children are already thinking about these things as they see them on TV or online. If your child uses the Internet, it is also important to find ways to listen and engage your children to better understand what they have watched or heard on social media. 

  
Limit media exposure. While talking as a family is important, avoid the barrage of information that comes with traumatic events through TV and social media. Graphic photos and audio can cause long-lasting trauma, so be wary of what your child is being exposed to.  

 

Create a safe routine at home. Home is where your child needs to feel safe and adhering to routines creates a comforting rhythm of life. Family dinners, game nights, movies, and reading together will provide your child's brain with a natural feeling of safety and security. 

 

Keep an eye on symptoms of fear and anxiety. It is common for people to experience symptoms of distress in the immediate aftermath of a traumatic event, but these responses typically subside within 4-6 weeks. If symptoms persist or become increasingly more intense, it is crucial to seek help from a mental health professional who could help process the event to ensure the symptoms do not create lasting mental health issues.

 
If you or your child is struggling with anxiety and needs additional support, JCFS Chicago offers resources and services to help to find solutions to these challenges. For more information, visit our website or call 855.275.5237.