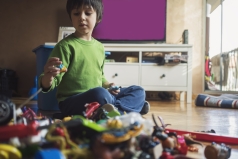 Did you know that too many toys in a child's play environment can have a negative effect on their development?
Having access to fewer toys enhances children's cognitive and neurological development according to the findings of a study conducted by the University of Toledo and recently published in The Journal of Infant Behavior and Development. The study called, The Influence of the Number of Toys in the Environment on Toddler's Play compared four- and 16-toy environments. Results showed that in the four-toy environment, the duration, manner and complexity of play with each item was twice as long than the 16-toy environment.
Researchers hypothesized that "fewer toys may allow for deeper, sophisticated play, because of the opportunity to become creative with each object in the environment." The average home has more toys than ever before, according to toy industry data cited in the study. Families spent $24 billion on toys annually, with $3.1 billion for infant and preschool toys. Parents spend an average of $240 on toys and games every year while grandparents spend $500. (1)
"Playing in an environment with fewer toys and noise helps eliminate disruptions and may positively affect the neurodevelopment of attention skills, which are important to cognition as well as problem-solving, sequencing and communication skills," said Marlies Gramann, MA CCC-SLP, Director of Outpatient Services, Integrated Pediatric Therapies at JCFS. Some children with special needs have a harder time developing these skills and may reap added benefits of having fewer disruptions to focused play. "Young children who play in environments with fewer toys tend to display sustained levels of attention, increased imagination, perception and cognition, and motor coordination," the study's authors wrote.
Additional ways parents can maximize playtime for their kids is to ensure a safe, simple, and easy-to-navigate play environment. Encourage exploration, especially for toddlers and preschoolers, who learn through this activity. Lastly, be patient: The benefits of toys to children's cognitive and neurological development accrue over time.
---
References
C. Dauch, et. al. The influence of the number of toys in the environment on toddlers'play. Infant Behavior and Development 50 (2018) 78–87.