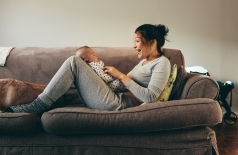 Jody Miller, MA CCC-SLP
By the time children turn two, they typically produce at least 100 words.  These words may be familiar people and objects, and can also include a variety of action words, descriptors, location phrases and simple pronouns (for example, "mine," a popular first pronoun).  Once children have a variety of parts of speech in their vocabularies, they begin to combine two words into phrases that are not memorized chunks.  Examples of novel two-word combinations would include "eat banana," "mommy go" or "my book."
Yet, not all children develop along this typical trajectory.  Phrases such as "he's a late talker" and "she'll talk when she wants to" begin to be thrown around.  But what does the term "late talker" really mean and how does it differ from a child with a language delay?
The American Speech-Language-Hearing Association classifies late talkers as those with late language emergence, which is defined as "a delay in language onset with no other diagnosed disabilities or developmental delays in other cognitive or motor domains."  In other words, late talkers are those children who are late to develop language skills, but that delay does not appear to be related to any other areas of development. 
Professionals tend to diagnose late talkers by assessing vocabulary size and word combinations.  Children who produce fewer than 50 words and do not produce simple two-word phrases by 24 months of age are considered late talkers.  Additionally, children are often assessed as to whether or not they demonstrated any sign of a language/vocabulary spurt between 18-24 months. 
For children falling within that criteria, there are other important skills to look at for decision making regarding treatment and outcomes.  Late talkers tend to have typical receptive language skills, understanding what is said to them, even if they don't produce verbal language to respond.  Late talkers use gestures more often, probably making up for limited expressive language skills.  It is also important to determine if children are trying to imitate words or attempting to put words together, in addition to their production of speech sounds, social language, and play, as strong skills in these areas are indicators that they will catch up on their own. 
While late talkers do not necessarily need intervention, ongoing monitoring by a speech-language pathologist is important.  Once a baseline level of language development is achieved, the speech-language pathologist can determine if home strategies can address vocabulary and expressive language growth and can monitor for language spurts.  If other delays are noted or consistent progress is not made independently, then treatment can be started, and hopefully offset potential delays in development.
Children who present as late talkers tend to catch up to their peers by the ages of 3-5 years old, but could be at risk for developing later language or literacy difficulties, or even mental health needs.  A recent study from Northwestern University stated that late talkers have two times as many severe tantrums as their typically developing peers.  This is the first study that has directly linked size of vocabulary to tantrum behaviors, and has indicated that speech pathology and mental health have a direct link, enforcing the importance of early intervention to provide children with communication skills to meet their emotional needs.
General Risk Factors for late talkers (reported by ASHA)
Gender, boys are more at risk

Delayed motor development

Lower birth weight or babies born at less than 37 weeks

Early Language Development, language skills at 12 months tend to be a good predictor of communication skills at 2 years

Family history of late talkers
Protective Factors reported by National Joint Committee on Learning Disabilities (these factors can work against the risk factors to lessen the chance of being a late talker)
Regular preventative visits to the doctor

Exposure to rich language environment

Access to printed materials (i.e. reading to your child)

Involvement in play, both structured and unstructured and in individual and group settings

Access to communication supports as needed
For more information about IPT or to schedule a speech-language, occupational or developmental therapy appointment for your child, contact Integrated Pediatric Therapies at 847.412.4379 or IPI@JCFS.org.