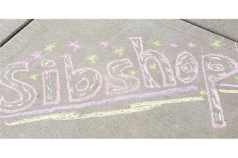 SibShops is a program designed to provide siblings of children with special needs their own place to share common joys and concerns. JCFS Chicago uses the SibShop model, created by Don Meyer of the Sibling Support Project. Founded in 1990, the Sibling Support Project has published numerous books, magazines, and online communities dedicated to educating siblings on how to help and cope with these types of family issues.  
Think of SibShops as special events, rather than therapy or childcare. They are intended to be fun, energetic, and full-throttle celebrations of the relationships between siblings of kids with special needs. SibShops acknowledge that being the sibling of a person with special needs can be challenging, but also incredibly rewarding and powerful. These events reinforce that siblings have a lot to offer one another – when given a chance.  
"When you think about it, the sibling relationship is often the longest relationship anyone will have in their lives," said Tammy Besser, LCSW, NCG and JCFS SibShops organizer.  
SibShops alternate between group talk sessions with some wacky and offbeat games designed for all ages and stages. There are also cooking, art, and sporting activities for anyone who would like to join. Because SibShops are designed for school-age children, peer support is provided within a lively, recreational context that emphasizes a kids'-eye view. Even though SibShops are not therapy, they can have a therapeutic effect on many children who get involved. SibShops acknowledge that most siblings of people with special needs, like their parents, are doing well, despite the challenges of an illness or disability. Consequently, while SibShop facilitators always keep an eye open for participants who may need additional services, the SibShop model takes a wellness approach.  
During the pandemic, JCFS' SibShops were forced to go virtual. "At first, we were worried the events wouldn't be much fun if they weren't in person," said Tammy, "But the kids have been having a fun time with virtual scavenger hunts and show-and-tell."  
JCFS will continue to offer both virtual and in-person SibShops this spring. For more information about dates and times visit JCFS.org.