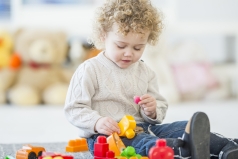 Early intervention is the term used to describe services and support that help babies and toddlers with developmental delays or disabilities and their families. A developmental delay is more than just being "slower to develop" or "a little behind." It means a child is continually behind in gaining the skills expected by a certain age. A developmental delay can happen in just one area or in a few.
"Birth to three years old is a critical period for brain development," says Jennie Marble, Director of JCFS Integrated Pediatric Therapies (IPT). "Starting early intervention can significantly change a child's developmental path and increase their success in school and life."
There are five areas of skills development. (1)
Cognitive (or thinking) skills: This is the ability to think, learn and solve problems. It's how kids explore the world around them with their eyes, ears, and hands. In babies, this looks like curiosity. In toddlers, it also includes things like learning to count, naming colors, and learning new words.
Social and emotional skills: This is the ability to relate to other people. That includes being able to express and control emotions. In babies, it means smiling at others and making sounds to communicate. In toddlers and preschoolers, it means being able to ask for help, show and express feelings, and get along with others.
Speech and language skills: This is the ability to use and understand language. For babies, this includes cooing and babbling. In older children, it includes understanding what's said and using words correctly and in ways others can understand.
Fine and gross motor skills: This is the ability to use small muscles (fine motor), particularly in the hands, and large muscles (gross motor) in the body. Babies use fine motor skills to grasp objects. Toddlers and preschoolers use them to do things like hold utensils, work with objects, and draw. Babies use gross motor skills to sit up, roll over, and begin to walk. Older kids use them to do things like jump, run, and climb stairs.
Daily living activities: This is the ability to handle everyday tasks. For children, that includes eating, dressing, and bathing themselves.
Early intervention services also support the parents and siblings of children with special needs. Families often experience frustration, stress, disappointment, and helplessness. "The more we can help coach and educate a caregiver and the more skills we can give a child in that birth-three range, the more successful the child will be at 5, 15 and 25 years old," Jennie adds.
Our pediatric therapists specialize in autism and developmental delays, and can work with you and your family, and other professionals as needed, to help your child reach their full potential. At JCFS, we offer individualized speech-language, occupational, and developmental therapy in homes and in our clinic for infants, toddlers and school-aged children. Additional services include aquatic therapy, feeding and swallowing therapy, and developmental peer groups.
We can provide services without going through the state or can start privately and transition to early intervention when the state's eligibility process is complete. If you are interested in early intervention services for your child, contact Integrated Pediatric Therapies at 847.412.4379 or IPI@JCFS.org