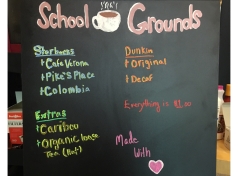 What do our parents and students have to say about the Therapeutic Day School? Here are some highlights...
Parent voices:
"My child has thrived at JCFS and the teachers and support staff are very communicative."
"This school has been so very wonderful for my daughter. They have really helped her progress emotionally, socially and educationally. I am so thankful."
"The teachers, assistants and every person that comes in contact with my child have her best interest at heart. I have never had my child at school where she has been so well taken care of socially, emotionally, and academically."
"Since my son started services at JCFS, he's happier and has less stressful days."
Student voices:
How has this school changed your life?
"[It] helps me control me!"
"It has allowed me to practice my skills, making it easier for me to get better mentally."
"It has helped me to express myself and understand skills I did not understand before."
"This school has shown me many ways to help myself and others and made me a better kid overall."
"Well, they helped me know that anger is a feeling that I can command."