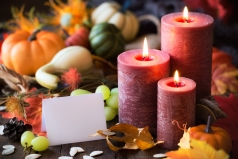 Carol Brumer Gliksman, MSW, Chaplaincy Coordinator/Community Educator
Soon it will be Thanksgiving, a special time to reflect on the people I am grateful for. Among them are chaplains, and I am deeply appreciative for the work that they do. A few years ago, when my parents were in hospice, chaplains provided support and guidance as my sister and I navigated their end-of-life care. Years earlier, when my husband was a cardiac care patient at a Chicago area hospital, chaplains not only listened to our fears and davened with us, but also became our advocates. We could share our genuine emotions because they were able to spend time with us that wasn't rushed. A spark of holiness was present in those interactions. Day and night they responded to our concerns with empathy and compassion, and made us feel less alone, with a little more light.   
Professionally, in my work as the JCFS chaplaincy coordinator, I am able to draw on my social work degree and experiences, as well as my recent certificate in grief work, to help make a difference in the lives of our clients and their families. My role is all the more rewarding because it involves Jewish principles, values and teachings.  
Here we are together in 2020, having faced eight months of challenges, changes and adaptations that have become part of our professional and personal lives. Yet JCFS chaplains are finding new ways to respond to inquiries for service and to our continuing clients. Whether the referral comes through access, our synagogue partnership program, a health care agency or from an individual who calls us directly, Rabbi Joseph Ozarowski, Cantor Fortunee Belilos, Rabbi Suzanne Griffel, Rabbi Paul Saiger and volunteer Rabbi Milt Wakschlag reach through the phone wires and online video, connecting with clients, providing comfort and support, minimizing the distance. 
During the summer, when COVID-19 cases were fewer and the weather was warmer, JCFS chaplains were able to meet with clients outside and in person while social distancing, wearing masks and observing health protocols. What a joy it was to connect face to face, even briefly. Even in these colder months, healing grief and hurt, and answering difficult questions continues through phone and video visits. New questions and concerns have emerged- how to bridge the gulf of loneliness during the pandemic, missing loved ones more than usual, facing the fears of the virus, and wondering about the future even more than normal. There is also hope for the months to come, considering how to transition to a post-COVID life which will hopefully be a less fearful and less isolated time.
With Hanukkah approaching, our chaplains, more than ever, bring light and spirituality to our clients whether they are at home or in a senior living community. Because we are unable to gather in person this year, we filmed a Hanukkah video with messages, music and teachings from each of our chaplains. They included melodies familiar and new in Yiddish, Hebrew, Ladino and English. Keep an eye out for our video, which will be posted on our webpage in the coming weeks.
Rabbi Fred Klein, a chaplain, colleague and Director of Mishkan Miami, recently wrote these words to illustrate the important work that chaplains do especially at this time of year. 
….  We know that each soul is like a flame which is brought down into this world from God (Proverbs 20:27).  Each of us is a shamash.  Each of us have the potential to light up the life of another human being.  A simple smile, a kind word, and caring touch – all of these can make a difference.
A flame that is extinguished cannot regenerate its own light. There are times in our life that we suffer. Maybe we are lonely or depressed or uninspired. We are like the extinguished candle. Things are dark and we feel alone. It is at these moments that we look to another to ignite us and to inspire us once again. When we light up the life of another, we help them to release their Divine light.
There are eight nights to Chanukah, and each night we add a candle. In doing so, we bring more light into the world.  In that same vain, each kindness we do for another person helps to heal them and make them whole once again. 
To all of you, JCFS chaplaincy services sends wishes for a delicious and bountiful Thanksgiving and light at Hanukkah. Hanukkah sameach, a happy Hanukkah