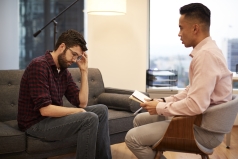 It is estimated that about 1 in 4 Americans have a mental health condition1 but despite its prevalence, misunderstanding and stigma surround mental illness. Mental health can impact all aspects of life. About 80% of adults with depression reported at least some difficulty with work, home, or social activities because of their depression symptoms.2 For employers, this can mean that mental health conditions can cost more than $100 billion and 217 million lost workdays each year.3
To show support for colleagues who have mental illness, The World Health Organization (WHO) recommends four important steps for companies:
Organizational change aimed at preventing and reducing job stress.

Employers should identify catalysts for work related stress. This might include uncontrollable work schedules, organizational change and/or a push to do more with less.5 WHO suggests that companies regularly evaluate mental health policies, procedures, and programs to ensure that they are meeting both organizational and worker needs.5

The de-stigmatization of mental health problems and help-seeking

.

In today's ever-changing career landscape, workers are often hesitant to talk about their mental health conditions because they fear that doing so may jeopardize their employment or career development. Employers should make an effort to foster a supportive work environment, which can increase happiness, productivity, and retention amongst the workforce. 3

Recognition and early detection of mental health and emotional difficulties.

Employers should look out for warning signs amongst colleagues or changes in behavior. If you are worried about a colleague, it is best to express empathy, encourage them to talk or reach out to health and counseling services. 4

Appropriate intervention and treatment through employee health and assistance programs.

Employers should develop appropriate prevention and promotion programs based on current disability legislation. As part of their role managers must be trained to identify and manage psychosocial difficulties amongst workers, and staff should know of internal and community resources that are available for support. 4
Accommodating the 25% of the workforce who reportedly have mental health issues1 is not only an ethical decision, but an economical one as well. In a work environment where people feel safe, employees are more likely to work harder and stay at the company longer. It is of upmost importance that employers in positions of responsibility have measures in place that promote good mental health amongst their employees.
If you are coping with work-related stress and or mental health issues, JCFS Chicago counseling services can help. "Our counseling services provide individuals of all ages and from all walks of life with the opportunity to gain emotional and mental stability, while learning coping strategies to adjust and emerge from their unique crises and challenges," said Lynn Shyman, LCSW, Director of Adult, Child, and Family Services. Call 855.275.5237 today to learn about counseling, support groups or group psychotherapy.
1https://www.hopkinsmedicine.org/health/wellness-and-prevention/mental-health-disorder-statistics
2https://www.cdc.gov/nchs/data/databriefs/db303.pdf
3https://namipierce.org/why-employers-need-to-talk-about-mental-illness-in-the-workplace/
4 identifying and reducing work-related stressors which can negatively impact mental health.
5 https://apps.who.int/iris/bitstream/handle/10665/43502/9241594381_eng.pdf?sequence=1