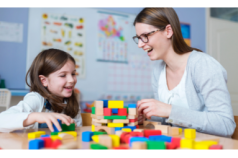 Are you a parent or caregiver of a child with intellectual/developmental disabilities? Consider joining us at our monthly respite groups at the Joy Faith Knapp Children's Center on Sundays from 1-4 pm. JCFS Chicago's respite program takes a nurturing and therapeutic approach combined with fun social and recreational activities, so parents can enjoy a well-deserved break knowing that their child is engaged and supported by caring and dedicated respite workers and volunteers.
Our respite pop-up group is available for JCFS clients and the Sunday respite group welcomes both clients and their siblings.  There is currently availability in both of these respite groups. The groups are staffed by JCFS respite workers and volunteers who support the children in a variety of social and recreational activities. The day's structure is dictated by what activities the children are interested in, which might include arts and crafts, games, reading books, sensory room activities, music, playing on the playground, and more.
Respite goals vary depending on the child and their needs. Typical examples include:
Children developing appropriate social interactions with peers.

Children learning to communicate their needs though verbal communication, gesturing, use of picture cards, etc.

Children responding appropriately to adult directives.

Family members benefiting positively from the break that respite provides.
For more information about schedule and fees, contact Roberta Pieta, LCSW at 773.765.3155.