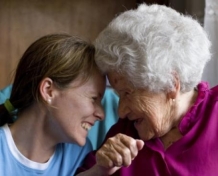 The adage goes that in life, you never know what's just around the bend. As an organization committed to healing, helping, and supporting over 26,000 children, adults, and families, JCFS Chicago understands that some of those surprises just over the horizon are hard to prepare for, and can leave unexpected craters in their aftermath. These events—illness, the death of a loved one, addiction, etc—can leave an individual feeling defeated or alone, and that's precisely when they need support the most.
"Judaism teaches that we affirm life even while facing pain and death," begins Rabbi Joseph Ozarowski, chaplain of JCFS Chicago's illness, loss and spiritual support in the first chapter of his book To Walk In God's Ways: Jewish Pastoral Perspectives on Illness and Bereavement. Rabbi Ozarowski recently spoke at Judaism, Health, and Healing: A Chicago Community Resource Conference at Spertus Institute for Jewish Learning and Leadership. The daylong conference focused on health-related topics that impact individuals, families, professionals, and the Jewish community at large.
His talk, entitled "Clinical and Pastoral Responses in Judaism," emphasized "how the Jewish tradition interacts with what the rest of the world calls 'clinical and pastoral' issues, like grief, illness, loss and end of life issues. These are times in life that people need a lot of support and are looking for a lot of answers. The Torah and the Talmud, they have a great deal to say about these matters."
"Spertus approached me about speaking at the conference," said Rabbi Ozarowski. "They know about how fully JCFS Chicago's  illness, loss and spiritual support supports families in times of loss and illness, and they really respect the work we've done. They wanted us to be involved."
The medical and health topics discussed at the conference complement Rabbi Ozarowski's area of expertise perfectly. "We think of medicine as being doctors and nurses," he said, "but research says that spiritual practices can have clinical value as well. In my talk, I mined helpful passages from traditional Jewish texts and shared them interactively. I certainly had enough material to go through; I literally wrote the book on the topic!"
"I was hoping that those who attended the talk would get a better idea of how Judaism speaks to these issues, and a better idea of where they can turn for support, both spiritually and practically. I think they left with some useful knowledge, and an interest in pursuing it further."
To learn more about the Spertus Institute for Jewish Learning and Leadership, or to learn more about counseling, support and illness, loss and spiritual support, or call toll free 855.ASK.JCFS (855.275.5237).