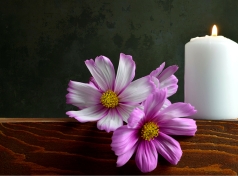 By Aliza Becker, JCFS Coordinator of Education & Support
"Community chaplaincy is accompanying people through vulnerable times in their lives, both where they are emotionally and where they live physically. Chaplains provide spiritual support, which can be listening, meaning-making, or whatever they need to help support their spirit. It doesn't necessarily equal religion, although sometimes we pray with people or do Jewish rituals." - Rabbi Suzanne Griffel, JCFS Chicago Community Chaplain
JCFS Chicago's chaplaincy program is a national leader in the emerging field of Jewish community chaplaincy. Unlike institution-affiliated programs in a hospital or long-term care facility in which chaplaincy services are available only to patients or residents, JCFS's chaplaincy serves anyone in the Chicago area Jewish community who might benefit from the services. "Our program provides chaplains in non-traditional spaces," explains JCFS's Chaplaincy Coordinator Leah Shefsky. They may travel to the person's home, to a long-term care facility without a Jewish chaplain, to the memory unit of a hospital, or they might see individuals remotely.
Five professionally trained chaplains: four rabbis and one cantor, affiliated with the Reform, Conservative, and Orthodox movements, provide individual and group chaplaincy services through the program. Chaplains meet with individuals one-on-one, in a group setting, or both. The person may have just one session or multiple sessions a month over several years, depending on the needs and desires of each individual. Chaplain Rabbi Paul Saiger relates, "They may be experiencing a crisis like losing a dear friend or family member, illness, or be struggling with an explicitly religious question relating to their relationship with God or with Judaism." Chaplains may work independently with an individual or in collaboration with a team of social service professionals, particularly in a situation in which multiple family members have needs. Thanks to our generous donors, JCFS chaplaincy services are completely free of charge. Individuals may self-refer or be referred by a professional, a family member or an institution.
JCFS Chicago chaplaincy participants range in age, although most are older. It is especially valuable to have a touchstone with the Jewish community for elders who may have outlived their spouse and friends, may not be computer literate, and/or with limited mobility to leave their homes. "We can't create a community for them, but we can try to help them find community," says Rabbinic Counselor and Chaplain Rabbi Dr. Joseph S. Ozarowski who directs our JCFS chaplaincy services and who also serves as President of Neshama: Association of Jewish Chaplains (NAJC).
Rabbi Ozarowski explains, "We are not therapists. We are not here to fix people. We have no script, no outline. Chaplaincy is journeying together with people to address the issues that are most of concern to them. We let them direct us where they want to go. It is very individualized to the person, not cookie cutter at all."
Rabbi Ozarowski adds, "This journey may involve helping them to figure out existential questions about the meaning and purpose of their lives. We may not be able to give them answers, but we provide someone with whom to talk about these questions."
"The chaplain has to be like water in a pool," says Cantor Fortunée Belilos. "Wherever there is a slight indentation and the water pools, is where we seek an opportunity to be present."
For more information, or to request a chaplain visit, contact Leah Shefsky, JCFS Chicago Chaplaincy Coordinator, at 847.745.5404. We invite you to learn more about our chaplaincy resources and watch a recent interview with Rabbi Ozarowski on the February episode of "Sanctuary," a 30-minute nonsectarian television program devoted to the religious experience in Chicago.