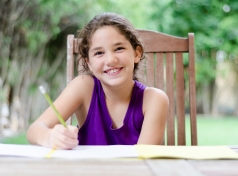 by Allison Liwanag, MS CCC-SLP
With the help of JCFS Chicago's pediatric therapists, the lazy days of summer can be transformed into a time to stretch the mind, explore new hobbies and build on skills learned during the school year.
Our therapeutic groups offer kids a boost in language, thinking and social skills by integrating play, reading, writing, language, fine motor, sensory and problem-solving activities through hands-on individual and group exercises. Have your child bring a sibling or friend along to help foster communication skills and peer interaction.
Our speech and occupational therapists will also help your child come up with a list of all the fun and interesting things summer has to offer! Making their own check list keeps kids motivated and goal-oriented. Take learning beyond our clinic and visit the zoo, beach, botanical garden or neighborhood ice cream shop! 
Ideas for Fun Summer Learning Activities
Have a picnic

Build a fort
Write Short stories
Read more books
Play in the sand
Plant a garden
Eat at a restaurant
Enjoy a day at the beach
Create obstacle courses
Practice killer sports moves
Become a better artist
Write and star in your own play
Try new foods
Go to the playground
Spend time with family and friends
We also have individual appointments available with our speech-language pathologists. Contact Integrated Pediatric Therapies at 847.412.4379 or ipi@jcfs.org for more information.