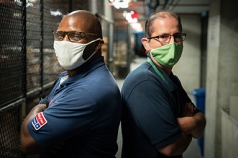 JVS Career & Employment's Contracted Employment Services (CES) is committed to assisting adults with disabilities and other barriers to employment find and maintain jobs. CES pairs qualified candidates with open positions in janitorial and administrative support services. During this past year, these jobs were not just meaningful to the employer and employee, they were essential.
Martin and Michael are two essential workers who found employment through CES. Working as shipper/packers at the Environmental Protection Agency (EPA), one of CES's government contracts. Mirek Sokalski, a Vocational Trainer, works directly with Martin and Michael to assign tasks and provide supervision. While most of the government employees were working remotely, Mirek, Martin and Michael came to the office everyday, along with seven other essential CES workers.
"For us, there is no return to Phase 5. We've been in it from the outset," said Eric Kramp, Director of Contracted Employment Services. "Our staff has continued to work and provide services to our clients and government contracts throughout the pandemic."
The EPA was focused on digitizing their system, which for Martin and Michael meant hours of stacking, organizing, and recycling papers. After completing that project, they moved on to clearing out filing cabinets. They took the cabinets to a metal recycling plant, where materials can be sold, and the money repurposed towards the EPA's mission of environmental stewardship. Removing the cabinets also allowed for more open space as more EPA workers returned to the office.
Martin has a hearing impairment that can make understanding his tasks for the day difficult, and Michael is always patient with him to ensure he understands the days directives. Mirek described Michael as someone who is understanding in a way he has never previously experienced. "It is a very beautiful feature of Michael's personality, and beneficial for Martin because Mike is a huge support for him. They both appreciate each other and do an outstanding job."
Throughout the pandemic, Michael and Martin remained dedicated to their work and came into the office five days a week. "The streets of Chicago were empty, less people were in the office, but life didn't change for Martin and Michael. They still had to wake up, take public transportation and come to work," said Mirek. "I think work gives them a real sense of purpose," he adds.