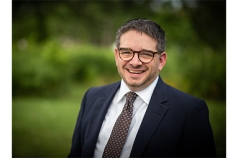 After working in auditing for the Big 4 accounting firms, Ari became dissatisfied and was struggling both personally and professionally. His identity got tied in the job and it was not good for his psyche. He thought working for an accounting firm was prestigious, but when he got into the work it didn't align with his beliefs. Stress, upon stress, upon stress resulted in many sleepless nights.
Ari met with JVS Career Services Director, Jeff Blumenfeld, who not only provided career guidance but gave him some much-needed emotional support. When describing how Career Services can help, Jeff explains, "Ari came to us confused about his career path and unsure of how to create marketable materials. After a number of one-on-one career counseling sessions, he was able to move forward and land a good job."
After working with Jeff for several months Ari landed an accounting job through a friend from his shul. Joining a family business allowed him to grow and learn, especially as a leader. His responsibilities increased quickly, and he formed a strong relationship with the owner that afforded him flexibility, many learning experiences and great life balance.
Fast forward a few years and Ari was looking to make a career change. He was nervous about looking for a new job given the homespun way of doing business at his current company, but his focus on health care accounting, particularly for nursing homes, presented several opportunities.
Ari joined one of our senior level networking groups. The group, facilitated by Laurie Rosen, JVS Executive Career Consultant, helped Ari connect with a mentor, who he still meets with every few months. After a recent "tune-up" with Career Services, Ari landed an outstanding job with a company whose culture fits the values that are so important to him.
With the support and expertise of JVS Career Services, Ari was able to get to a place of job stability and success that aligns with both his skills and values. "Career uncertainty can have a profound effect throughout your life. Filled with self-doubt based on my past experiences and job loss, the feeling of rejection really never goes away," says Ari. "For me, being successful is who you are as a person, and I have learned a lot of lessons that keep me hustling to make the best life possible for me and my family."
Make a donation today.