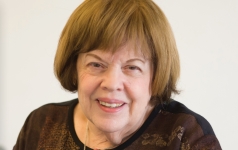 When you have worked your whole life and a progression of circumstances place you in financial distress, some guidance and support go a long way toward security. After more than 20 years as an attorney with the same company, Barbara was laid off. Not quite ready to retire, Barbara took a job at a gift shop close to home and worked there until the store relocated to a far northwest Chicago suburb and cut her weekly hours. In addition, her husband of 53 years passed away and she was faced with a mortgage and living expenses, all on a part-time salary.
On the recommendation of her rabbi, Barbara came to JVS Career & Employment for help finding a better paying job that was close to home and a good fit for her skills. Admittedly, she needed to refresh her interview techniques and update her resume. Also, for someone that has been out of the job market for a while the online application process was overwhelming. Working with a career counselor, Barbara refreshed her resume and received some technology training to help with the application process.
The comprehensive career development and employment services offered help individuals learn job search strategies while navigating the job market. Career counselors work one on one with people like Barbara to improve their job search skills and connect them with employers looking to hire.
In March 2018, Barbara's JVS Career Counselor referred her to a position at a home care agency looking for someone with legal knowledge and willing to do extensive research about regulations around opening new businesses. After only one interview she was offered a part-time position and started work immediately.
The job turned out to be a perfect fit and Barbara is using her knowledge and experience to support herself. "JVS connected me with a job that uses my brain and I am earning a living. Little did I know that I would ever need the help I received from JVS Chicago, and I'm so appreciative to those that give to organizations doing this good work."