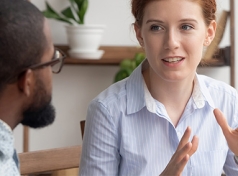 The "EM" in Project EM represents: Employment, Empowerment, and Embracing new opportunities. The Network of Jewish Human Service Agencies (NJHSA) created the program two years ago as a direct response to Covid-driven unemployment. Workers across the country suddenly found themselves unemployed or underemployed, with a severe lack of options. Many people who had been working at the same position for years were confused and intimidated at the prospect of changing careers in today's job market.
"The goal of Project EM is to ensure that no matter where someone is on their career path or where they are located geographically, they can get the support they require to get a job–or a better job–free of charge," said Sarah C. Welch, Vice President of Workforce Development Services at NJHSA, and the coordinator of Project EM.
When the NJHSA began looking at the scope of Project EM, they realized there was a much greater need for employment services across the board. According to data from the U.S. Bureau of Labor Statistics (BLS) Current Employment Statistics (CES) survey, nonfarm payroll employment in the United States declined by 9.4 million in 2020, the largest calendar-year decline in the history of the CES employment survey.
Recognizing that there was an opportunity to coordinate career and employment programs on a national level, NJHSA convened a group of nineteen partner agencies (including JCFS Chicago) and created a coordinated approach to hosting Project EM as well as their usual services.
Many workers remain on the sideline, find themselves severely underemployed, work multiple jobs, or lack access to benefits. Others, who have upskilled during the pandemic, need help breaking into new fields.
Project EM workshops provide one-on-one support to those unemployed or looking to switch careers. The workshops center around critical job-finding skills like interviewing, building a professional brand, utilizing social media, networking, and crafting effective resumes. Those who become Project EM clients have access to workshops and presentations from JVS locations across the country.
If you're interested in attending a Project EM workshop, JVS Career & Employment has a calendar with the dates and registration information for each workshop. For more information call 855.275.5237.