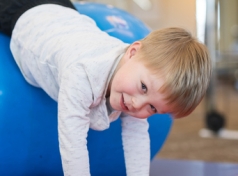 The JCFS family of services works to strengthen the lives of over 30,000 people in the Chicago area each year. Our support for people with disabilities, career and employment services, therapeutic education and teen outreach strengthens the emotional and economic well-being of children, adults and families. Thanks so much for joining with us in this work.
INDEPENDENCE
With our help, people with disabilities have opportunities to build skills that will help them expand their interests, meet new people and develop friendships that have a positive impact on their health and happiness. We work to make our community inclusive and accessible for all.
OPPORTUNITY
The skilled staff of JVS Chicago's career and employment services help young people, adults, mature workers and people with disabilities through career guidance, job training, placement assistance, mentoring and much more. We work closely with employers to connect with candidates and job seekers to secure meaningful and stable employment.
LEARNING
Students and their families find a warm and welcoming community at our Therapeutic Day School and Yeshiva. Specialized educators, therapists and support staff help students develop the skills necessary to discover their potential and build an educational foundation for success.
EMPOWERMENT
The Response Center for Teens helps empower teens to make healthy life choices. Our team of professionals partner with community organizations to provide outreach, leadership skills development, sexual health education and therapeutic counseling that supports teens as they face challenges such as cyberbullying, depression, anxiety and addiction.
COMMUNITY
JCFS strives to enhance the social and emotional well-being of individuals and families with complex needs or barriers to service, while maximizing potential for people with disabilities. We work to strengthen lives throughout our community by providing services that are infused with Jewish values and compassion.
Learn more about how you can help.