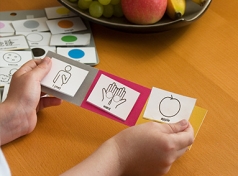 By Integrated Pediatric Therapies
A Social Story, developed by Carol Gray, is a social learning tool. It was developed to support the safe and meaningful exchange of information between parents, professionals and individuals with autism. However, we know that visual preparation and visual teaching can be helpful for so many people.
A Social Story presents social behaviors in the form of concrete, visual cues that make the information more digestible for kids who aren't able to conceptualize an image when someone verbally explains what to do or what to expect.
How Visuals Can Benefit Your Child
Social Stories are a great tool for increasing social growth in children. Visual stories can help prepare a child for new or unfamiliar home and community activities, and allows him to know what is expected, and how to complete a routine.
Reduce anxiety during new activity or unpreferred activity

Clearly communicate what the expectation is for the day or routine/activity

Utilize ahead of time or in-the-moment to help your child understand what is coming soon or what is happening now

Increase overall independence in variety of skill areas

Redirect negative behaviors with little or no language

Support safety concerns
See an example of a Social Story used by our therapists.
Schedule a free consultation today.
Contact Integrated Pediatric Therapies at 847.412.4379 or email ipi@jcfs.org
Connect to all of our programs and services for children and families!
Call 855.ASK.JCFS (855.275.5237), email ask@jcfs.org or visit us online at JCFS.org