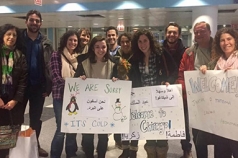 Apartment 201 is quiet. The front door opens to clean hallways and white walls, all empty except for a few colorful, handwritten welcome signs. The kitchen is stocked, and the living room has a cheery red couch perfect for a movie night. Each bedroom is modest and cozy; the kids' beds have stuffed animals propped on pillows, arms reaching out as though asking to be held. Everything is ready. Now it just needs a family to make it a home.  
For over a century, HIAS Immigration & Citizenship has supported immigrants and refugees seeking a safe place to call home. Founded in the early 1900's and based on the Jewish values of Tikkun Olam, Tzedakah, and Bruchim Ha'bayim, the organization has resettled thousands of refugees. Currently, HIAS is focused on the Refugee Resettlement and Placement Program, aimed at relocating refugees from around the world who all share the common wish to find safe place to start anew.  
Jessica Schaffer, Director of HIAS Immigration & Citizenship, speaks animatedly about the Refugee Resettlement Program. "Our program was on hold for about 2 years, and when President Biden came into office, we saw it as an opportunity to resume this work. We had ten weeks to get everything up and running before our first Afghan family arrived in January 2022."  
Jamshid Daudzai is a Case Manager for HIAS. He assists refugees with their resettlement for the first four months, from the moment they arrive at the airport. For Jamshid, his job is especially bittersweet. "I first arrived in this country four years ago and had to depend on the support of others for the first month…I understand their feelings, and I share my own, which gives them hope and helps them feel better."  
The Refugee Resettlement Program is a major undertaking that JCFS does not handle alone. Our co-sponsors are an invaluable group who volunteer their time and resources to help each refugee's adjustment go smoothly. Samantha DeKoven, Chair of Anshe Emet's Social Justice Committee, is proud to be a co-sponsor through her congregation. Samantha believes "the refugee story is such a strong component of Jewish history. It is incredibly gratifying to participate in the good work of helping create a welcoming place for people fleeing persecution, war, political unrest, or other devastating situations." 
Getting the refugees to the United States is an incredible challenge. Helping them integrate into society is a whole other one. Services include financial assistance, supplying food and clothing, and health screenings. Jamshid describes: "I apply for benefits on their behalf, assist them with health appointments, enroll their children in school, refer them to ESL classes and legal assistance." Even after the refugees have settled in, HIAS and co-sponsors continue to be involved. Some get to know the families well, often playing games with the children and providing tutoring. Jessica explains, "This is really A WELCOMING PLACE FOR REFUGEES their next chapter. It's so meaningful to be a part of this and help plant the seeds that will hopefully allow for a lot of growth."  
Jamshid has found "Chicagoans to be receptive to strangers" and feels connected to the community, as both an immigrant and a HIAS case worker. For Jessica, working at HIAS is more than a job. "My grandparents were Holocaust survivors and my mother was a resettled refugee when she was 3. We are providing the support my family received. I love being able to pay it forward in such a personal, moving way."  
By the end of the year, HIAS will have welcomed 130 refugees from all over the world, including 70 people from Afghanistan. For Jessica, she is proud not only of the brave immigrants, but of the people she works with every day who set the stage for the refugees to succeed. "I think of the multitude of needs that our staff works to address. As a resettlement provider there is a list of things we are required to do…but there is so much more that happens in between those essential services."  
At JCFS, we are committed to lifting up our neighbors, whether they were born here or elsewhere, providing services throughout Chicagoland. The Refugee Resettlement Program is a full-scale community effort, welcoming immigrants into a new life where they will someday feel at home. Visit JCFS.org/hias to learn more about HIAS Immigration and Citizenship.