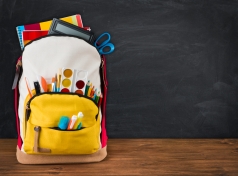 Dear Community Members,
My bat mitzvah is in May and as a mitzvah, or service, project I've chosen to partner with Jewish Child & Family Services (JCFS) to help supply all kinds of kids in need with backpacks and school supplies. JCFS serves both Jewish kids and families and non-Jewish kids and families alike. The organization works to enrich the social-emotional well-being of people of all ages and abilities.
I thought a lot about where and how I'd like to help kids who need support. This project speaks to me because I know what it feels like to get a new backpack, to make sure that I have school supplies, and to be prepared for school in a fundamental way. I've seen kids who don't have what I have, and my heart aches. I am blessed, and I'd like to pay it forward, but I need your help.
Every child who receives a backpack filled with school supplies through this program is served by one or more of the programs at JCFS such as foster care, counseling, and the therapeutic day school. The children and families served by these programs are from a multitude of racial, ethnic, and religious backgrounds. JCFS uses donations and drives to supply and fill hundreds of backpacks annually.
If you'd like to participate by donating to this effort you can make a monetary contribution that will be used to purchase backpacks and supplies.
Thank you for your time,
Mallory R.
Read more about the JCFS Back to School Drive