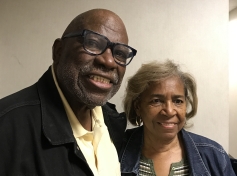 Mr. and Mrs. Heard started fostering in early 1994 in order to care for two of their grandchildren.  As they took foster parent classes they saw how many kids in care needed a good home, and thought "If we could love our own, we could love someone who wasn't" their biological family.  The Heards also have three daughters who are foster parents.
What is your best advice for other foster parents?
Mrs. Heard:  Be patient.  Have an environment of trust.  Be loving.  Don't be afraid to hug.
Mr. Heard:  Understand that no matter how much experience you have raising your own kids, you will meet challenges.  Keep an open mind, an open approach to learning.  We don't know their (foster kids) experiences such as trauma or chemical exposure so we have to be flexible.  We don't know as much as we think we know!  We have to learn them as they learn us.
What is the most rewarding part of fostering?
Mrs. Heard:  Seeing a child happy.  They might come into our homes not smiling much.  Later they can realize "I am part of a family.  I am happy."
Mr. Heard:  Seeing the growth of a child.  We shouldn't be the judge of how far each child can grow.  Each child is different and has a "growth factor" that is different.  Foster parents provide a foundation and support their growth. The real growth comes from within each child.  All of the credit goes to the child.  We support them in their growth.
What is the most challenging part of fostering?
Mr. and Mrs. Heard agree:  When a child doesn't want to receive what you are trying to give them, it's a challenge.  You have to find a way to let the child know you are there to support and help them.  You have to help the child know you aren't a combatant in a fight with them.  Sometimes kids might resent you for trying to be a parent when they really just want their biological parent.
How do you help others know about the positive impact of fostering?
Mr. Heard:  For many years I was on the local school council.  I shared with others the rewards of fostering in my role on the council.
Mrs. Heard:  I worked with the girls at the school and met with their parents too.  Through my network I shared how wonderful it is to be a foster parent.
What advice can you give to help support kids/teens in care during the holiday season?
Mrs. Heard:  In life we all experience losses in different ways.  It can be hard for adults at holidays, can you imagine how hard this can be for kids who have experienced loss?  It can be a sad time.  Foster parents have to go over and above.  Maybe welcome kids home from school with a warm cocoa or apple cider and talk about their day.  Let kids know you have special time just for them.  The best gift to give or receive is love.
Mr. Heard:  A Thanksgiving tradition in our family is to have our meal together as a family.  We go around the table and all share something we are thankful for.  Some will have more to share, some less or a smaller thing.  We all give thanks together and feel included in our family traditions.