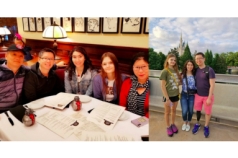 For over 100 years, HIAS Immigration & Citizenship has been a proud supporter of refugees and asylum seekers. To help people who are rebuilding their lives in Chicago, HIAS launched The Chicago Jewish Coalition for Refugees in partnership with the Jewish community. To learn more about the Coalition, visit JCFS.org/HIAS.
Michelleanne and Max Li became connected to HIAS through their synagogue, Anshe Emet, which is a member of The Chicago Jewish Coalition for Refugees. Part of the coalition's initiative is to connect individuals and families like the Lis to volunteer opportunities in the community. Since starting their volunteer work with HIAS two years ago, the Lis have worked with the Kulnichs, a refugee family from Ukraine.
The Lis visit Leonid, Yulija, and their daughter Olesia Kulnich two to three times a month, and spend their time playing with the kids, chatting about school, vacations, and their favorite topic–food. The Lis love taking advantage of the diverse food scene in Chicago, and bring Olesia along to sample Italian, Swedish, and Korean restaurants around the city. The families also love to cook together. Leonid developed an affinity for sushi since moving to America, so Michelleanne taught him how to make a few rolls and other Japanese dishes at home.
"Max and I have truly enjoyed developing a relationship with the Kulnich family. They are such lovely people," said Michelleanne. This past winter, the Li family generously invited Olesia on their family trip to Disney World. Over the years, she had expressed a wish to visit, so the invitation was a dream come true.
The Lis and Olesia had a wonderful time in Florida, sightseeing Disney World, the Kennedy Space Center and the beach. "Olesia is such a great, sweet kid, and we all enjoyed having her with us on our family vacation," said Michelleanne.
For Max, the most rewarding part of their volunteer work and relationship with the Kulnichs has been watching the kids grow up. "We have really enjoyed watching the family settle down and build a life here in the U.S.," he said.
For more information about JCFS volunteer opportunities, contact Kathy Morris or call 773.467.3746.