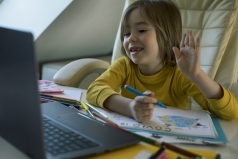 Whether you are teaching at home or in a virtual classroom, these tips from IPT speech-language pathologist Allison Liwanag will help you create a more enriching teaching and learning environment.
Start with a big theme, then break it down into individual characteristics.  Target one detail each week. In October we celebrated fall and discussed either the changing leaves, apples, pumpkins, or the changing weather every week.
Pair your theme with a concept. These could include basic concepts such as colors, shapes, sizes, numbers, or letters, to more complex concepts such as categories, associations, opposites, and same/different.  We targeted colors during our fall celebration, pointed them out in books, labeled them during art and incorporated colors into our games. 
Stick to a schedule and dedicated learning space. Ready, Set, Grow starts with a movement activity, followed by a hello circle, then book, pretend play, art, a game and finally a goodbye circle. We encourage families to stay at the table and differentiate activities through colored paper or placemats, or transition between well marked or blocked off areas in a room. 
Combine hard skills with fun activities.  For our pre-preschoolers, following directions, taking turns, and using language can be difficult. However, they can be more open when playing with something they are familiar with or love—like sensory bins, playdoh, or pretend play.  Also, if I notice that a child is having trouble with a specific task, I do not give up on that skill.  I will incorporate it into other activities during the next few weeks. 
Create a dedicated art wall. Keep it visible and accessible.  With their artwork up, children can show and talk about their work, as well as share their knowledge of that month's theme!
Include emotional learning opportunities into your lessons through games and pretend play.  Sometimes life is not fair, and we must teach our children to be comfortable with discomfort.  One of my fall games included pretending to fall with a basket of "apples," or a basket of balls, brushing yourself off, and picking up what fell out the basket.  Go through and practice the (e)motions, so your child will have knowledge of what to do when it really happens to them. 
Don't feel like you have to do everything yourself!  Have your child help!  Part of group is learning to become more independent which takes multiple opportunities to practice.  Have your child assist you with snack prep, setting and cleaning the table, making and putting up decorations, and even picking what theme they want to learn about.  Don't forget clean up!
Lastly, since many of our groups are happening via teletherapy, I try to keep materials to a minimum since we cannot provide them. Take inventory of what you have. This is a great opportunity to use stale cereal and odd, misfit toys for sensory bins and bits of paper and string for art supplies. Put away thematic toys at the beginning of the month so that they will be like new when you pull them out for class. Items I do encourage families to get are crayons, markers, glue, scissors, watercolors and construction paper. 
If you want the experience of your child playing and engaging with others in a socially distant manner, email Megan Kowalski and ask about our ongoing groups for different ages.