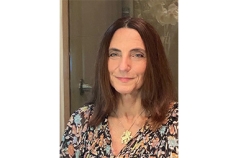 Terri Freeman, a Chicago native and longstanding Jewish community leader has been a member of JCFS Chicago's Response Advisory Council (RAC) for Response for Teens since the early 2000's.
Terri spent most of her professional career as a business consultant and partner at a large local accounting firm. Though she enjoyed her work, Terri found volunteering and philanthropy to be more fulfilling. She became involved at JUF, serving on various committees and helping to raise money. Eventually, Terri decided her professional skills would be best used to support charitable giving, working directly with an agency.
Terri joined the Board of Jewish Family and Community Services, a predecessor to JCFS Chicago before it merged with the Jewish Children's Bureau. During this time, she was introduced to Response for Teens, a JCFS Chicago program that supports the wellness, health, and development of adolescents. After rotating off the JFCS Board, Terri was encouraged by a friend and colleague to join the Response Advisory Council (RAC). She immediately felt that it was a perfect match for her current situation since she was recently married and had three teen stepchildren.
Over the next 20 years Terri became heavily involved with Response and played a role in shaping the program. Among many accomplishments, Terri is most proud of growing Tuned In, the annual fundraiser for Response, which initially raised around $20,000. This year, Tuned In brought in over $260,000 to support the many services Response offers for teens and their families. Recently, Terri and Sara L. Manewith, Director of Response for Teens developed a committee structure for the RAC with more defined roles, membership goals, and leadership opportunities. Today, the RAC is smaller than it once was, but each member has a better understanding of their impact, creating a cohesive group focused on furthering Response's mission.
Terri views her time at Response in two phases that connect to her life as a parent. Phase one began after she became a stepmom to three teens, while phase two started roughly a decade later when she retired and became a full-time mom to her newly adopted daughter, Shana. In many ways, Terri considers her experience at Response integral to her ability to be a successful parent. For example, when Shana was an early teen and struggling with several issues young people face at that time of their lives, Response prepared Terri to be supportive and feel comfortable talking with her daughter. For Terri, it's important that parents and teens know they can seek help, and not be embarrassed to share what's going on. Programs like Response create a comfortable space and provide resources for teens and their parents seeking help.
Terri continues to be involved with Response by giving both her time and financial support. Because of how important Response has been in their lives, Terri and her husband sponsored a room at the Seigle Building in Skokie, the new home of Response. She hopes to set an example for her children, creating a permanent tribute to their family's values and beliefs.