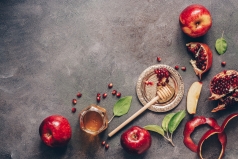 Rabbi Joseph S. Ozarowski, D. Min., BCC, JCFS Rabbinic Counselor and Chaplain
The Hebrew keyword for this time of year is T'shuva, referring to the process of coming back to who we are, where we need to be and rediscovering ourselves as Jews and Spiritual Human Beings.  Here are Ten 'R's of spiritual practice for seeking a spiritual place this special time of year. 
Return I – Finding the Divine. T'shuva can begin with seeking a Higher Power, as the 12 steppers call God. Hasidic literature teaches us that during this time of year, "HaMelech BaSadeh," The King, or whatever appellation for God you use, is in the field, near us, next to us, in us and beside us. This is a time of grace, a time for us to sense and find the Divine all around us. 
Return II – Finding the Community.  Another part of the process of T'shuva is finding one's way back to Jewish people, whether via a shul/synagogue, organization or other aggregate of Jews.  Even though we are physically isolated today, we can still connect with the community online, over the phone and in person following social distance guidelines to keep everyone as safe as possible. 

Reconnect – How we relate to God and to each other. Relationships are part of the core of Judaism. This is a good time to think about how we connect to those we love, in our families, professional relationships and friendships.  How can we enhance those connections?  Is there one thing we can do on each day of the Holy Season to enrich and strengthen those relationships? When was the last time we told a loved one how much we appreciated them?  Now is a terrific time to do it. 

Renew – This is an essential part of Rosh Hashana.  The Shana of Rosh HaShana is usually translated as year. But in Hebrew it has a double root meaning of "to repeat" and "to change."  The various customs and traditions of this time of year are opportunities where we renew our Judaic practices, look at old things anew and find new ways to celebrate. 

Review - Studying our sacred texts.  We might consider taking a look at sacred Jewish texts of our choosing and studying them differently than the way we did when we went to Hebrew School, Sunday School, Day school or Yeshiva. No matter what beliefs we have of Judaism, it can be very helpful and inspiring to peruse the sacred texts of Judaism – whether it be something classic like Torah, Psalms, Talmud, Prayerbook, or more contemporarily Judaic.  We can find inspiration and knowledge we did not have in our earlier studies. And if you never studied, this is a great time to start. 

Rejuvenate - Finding new ways to connect with ourselves. In addition to looking upward and outward, we should also be looking inward.  Judaism has a mitzvah to take care of ourselves (see Deuteronomy 4:15).  Whether getting that long-delayed checkup, finding mindfulness techniques to keep us balanced or looking at meaning beyond ourselves, this can be a wonderful time to take stock of one's self physically, emotionally and spiritually. 

Rejoice – Finding joy in life. Many people think of the Fall Holidays as times of sadness or solemnity, especially this year.  Rebbe Nachman of Bratzlav taught that it is "a big mizvah to be in simcha," not to force joy but to create a context where we can find our own joy.  Relish even small moments of joy, from a connection with someone close to you, music that makes you smile or even a meme on social media.
Receive – Strength and presence via prayer. Some think of prayer as asking God for things, but the Hebrew term is hitpallel, roughly translated as introspect. Prayer is a time to look deep within ourselves and see what is important to us. This can be done using a text such as a Siddur/prayerbook or formulating prayer in our own words. 
Restore – Via acts of chesed/loving kindness. Part of spirituality in Jewish terms includes reaching out to those who need our help- the ill, the bereaved and the indigent. By doing this, we are restoring to them some of the human dignity which occasionally is lost in difficult situations. We do this in imitation of God who constantly restores the Divine Image to us when it appears to be lost. 

Rediscovery – The Jewish Days of Awe do not have to be times of morbidity.  We have suffered many, many losses and setbacks this year.  But we can also ask ourselves, "How have we been blessed over the past year? How can we find blessings within ourselves as well as without? What can we learn about our inner beings, our faith and traditions and our communities over the coming year?" 
May all of you be blessed with health and the sweetest of years in 5781!  Shana Tova - Ah Git Yohr – A Good Year.