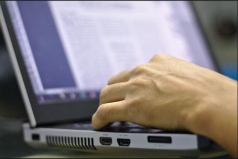 Everywhere you look, people's eyes are glued to the screens of their smartphones, iPods and tablets. Commuters on the El or customers waiting in line with their shopping carts at their local Jewel-Osco are scrolling and tapping their hand-held devices—texting, surfing, emailing, gaming, posting and shopping. The Orthodox Jewish community is by no means immune to this digital invasion and it is grappling with how to adhere to Jewish laws in the ubiquitous landscape of technology.
The Orthodox Network, a group of agency professionals who serve the Chicagoland Orthodox Jewish community and offer educational opportunities, tackled the intersection of Orthodox Judaism and the Internet at a recent forum, Awareness and Education: The Impacts of Technology on the Orthodox Community at the Virginia Frank Child Development Center. The forum shed light on the spectrum of views among the Orthodox Jewish community. Whether the Internet and technological devices are used for business, educational or personal reasons, the opinions of families, individuals and schools vary, which demonstrates the complexity of the issue.
"We feel it is important for social service professionals to be better informed about the complexities and subtleties of technology use among different groups of Orthodox Jews," said Marilyn Siegel, Director of Adult & Family Services for JCFS Chicago and co-chair of the Orthodox Network. 
Rabbi David Rosenberg, Orthodox Community Liaison for JCFS Chicago moderated the session, as three panelists offered commentary on the effect of digital technology on education, personal safety and the emotional well-being of the individual. The first speaker, Rabbi Avrohom Moller, touched on the Internet's impact on the education system. He is the Superintendent of Education of Associated Talmud Torahs (ATT) of Chicago, which is an umbrella body for Orthodox Jewish schools. The ATT has an enrollment of 3,600 students in its schools and its summer programs. 
Rabbi Moller indicated each ATT school approaches the Internet differently, based on a survey about Internet Usage and Policy in ATT Schools, completed by school principals. Right-wing schools require filtering of the Internet on computers in students' homes, while the Modern Orthodox schools actively engage the Internet.  In fact, modern Orthodox school administrators publicly acknowledge students' use of the Internet and are comfortable teaching them about Internet safety and responding to problems such as cyber-bullying.  While some schools ban the Internet in educational and personal settings, others believe technology affords greater access to Judaic resources, which can benefit the teaching of Jewish studies, a central focus of Orthodox Jewish life.  
While Rabbi Moller spoke about the Internet's impact on schools, Dr. Beth Fishman, Manager of the addiction services at JCFS Chicago, talked about personal technology and addictive behavior within the Orthodox Jewish community. She indicated behavior is addictive when individuals continue the behavior despite its harmful effects. Those addictive behaviors may include constant texting, playing video games and watching pornography. Individuals are more likely to engage in addictive behaviors when they are dealing with stress, trauma and sexual and/or domestic abuse. Their addictive outlets can serve as a way to relieve stress in a damaging way.
Dr. Fishman said there are ways to reduce young individuals' likelihood of engaging in addictive behaviors such as acknowledging and discussing youth's feelings. Aside from this strategy, training (teaching kids to be safe with texting, emailing, etc.) and management (filtering; having kids charge their devices in the parental bedroom) are essential. Technology training and management was the next presenter's focus. 
Mr. Joshua Ruben, the Coordinator of Technology Awareness Group, Skokie, IL (TAG Chicago) shared his perspective on how the Orthodox community can safely use technology. The volunteers of TAG cater to communities' technological needs by offering educational and training sessions, developing technology policies and providing filtering solutions.  TAG offers walk-in services eight hours a week at the Wi-Fi building in Skokie, and parents often bring questions about their kids' use of devices. Mr. Ruben and his fellow volunteers teach parents how to set up filters and parental controls. 
Susan Livingstone, a clinician at the Peterson office, attended the event and enjoyed learning how leaders in the fields of education and psychology are responding to technology issues in Orthodox communities. 
"The question is how does the Orthodox community live in the 21st century and incorporate technology in daily life, schools, business and others areas without compromising ideals and exposing families to harm," said Livingstone. 
The Orthodox Network group presents two forums a year on topics relevant to Orthodox communities. The organization's next forum is May 4, 2015.