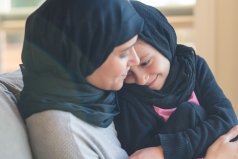 Over 70 million people are displaced around the world because of violence, war and persecution – the greatest displacement in history1. And yet, the United States is on track to resettle the fewest number of refugees since the inception of the U.S. Refugee Assistance Program. Individuals' right to seek asylum is being denied.  Families continue to be separated at our southern border.
As Jews, we live by the value of Tikkun Olam – the repair of the world – and talk frequently of the importance of welcoming the stranger. We have a unique responsibility to support refugees and asylum seekers and raise our voices in opposition to the negative rhetoric and policy changes that we are bearing witness to today.
HIAS Immigration & Citizenship, part of JCFS Chicago's family of services, can help you and your congregation better understand issues impacting refugees and asylum seekers today. Moreover, we can offer concrete ways to support immigrants in our community and beyond.
Want to get involved? Find five suggested ways to take action below.
For more information, contact Jessica Schaffer, Director of HIAS Immigration & Citizenship.
 

Join the **kick-off meeting** of HIAS Immigration & Citizenship's Jewish Community Coalition in Support of Refugees and Asylum Seekers

on Thursday, September 19 from 8:30 – 10:30am at JCFS' Abe & Ida Cooper Center, 6639 N. Kedzie.
Together, we'll discuss issues impacting refugees and asylum seekers, engage in robust advocacy, connect with volunteer opportunities to support refugees, asylees and other immigrants in Chicago and surrounding communities, and strategize around how best to shape this Coalition moving forward to have the greatest impact.
All are welcome! Please RSVP here.
Make a gift to the Jewish Federation of Metropolitan Chicago's Fund for Asylum Seekers. All money raised will be donated to organizations providing critical support to asylum seekers: Jewish Family Service of San Diego (shelter program for asylum seekers released from detention), RAICES (legal services) and The Young Center (advocates for unaccompanied and separated minors).

Donate here

. 
Bring the One Mitzvah, One Community project to your congregation and pack backpacks for asylum seekers. HIAS Immigration & Citizenship, in partnership with the Board of Jewish Education, is excited to bring One Mitzvah, One Community to Chicago and surrounding suburbs over Sukkot. The project is designed to supply needed toiletries, writing instruments and other items to organizations working directly with asylum seekers on the southern border. This is a wonderful mitzvah project for kids and families.

More information can be found here

.
Help reunite families

by donating airmiles to Miles4Migrants, an organization that is dedicated to using donated frequent flyer miles, points and money for the relocation of those displaced by war, persecution, politics and more, to start a new beginning in a new home.

More information here.
Host HIAS Immigration & Citizenship staff at your congregation

for a discussion or program on refugee resettlement and issues impacting refugees and asylum seekers.
Let us come together to send a strong message: the Chicagoland Jewish community supports the rights and dignity of refugees and asylum seekers. We stand with our immigrant brothers and sisters as they seek safety in the United States.