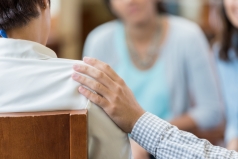 JCFS Chicago, No Shame On U, and MISSD (Medication-Induced Suicide Prevention and Education Foundation) have received a JUF Breakthrough Fund grant to launch a critical initiative: Suicide Prevention and Support in the Chicago Jewish Community. The overall goal of this initiative is to initiate dialogue that enhances understanding of suicide, reduces the stigma surrounding it, and ensures appropriate and compassionate responses. An additional grant from the JUF Voices Teen Giving Circle will help to ensure that the initiative addresses the teen population. 
The need for suicide prevention and support is evident on many levels. National research from the Centers for Disease Control and Prevention confirms suicide rates are on the rise, now the 10th leading cause of death overall, and second among those ages 15 to 34. There is one death by suicide in the US every 12 minutes and the CDC reported an estimated 1.4 million suicide attempts in 2017. Unfortunately, the Jewish community is not immune from these sobering statistics. JCFS continues to see a rise in the number of individuals grappling with suicidal thoughts. Equally concerning is the increase in depression or trauma – two diagnoses associated with significantly higher risks for suicide. Concerned camp counselors, rabbis and teachers are reaching out to JCFS more frequently to seek guidance about campers, congregants and students struggling with severe mental health issues. 
Last December, when 120 people showed up at Beth Hillel synagogue in Wilmette for the Suicide in the Jewish Community: Shining a Light in the Darkness program, we knew the time had come to address the issue head-on. With this support from the JUF Breakthrough Fund and JUF Voices Teen Giving Circle, over the next year JCFS Chicago, NSOU, and MISSD will:
Provide a variety of educational opportunities to reduce the stigma of mental illness, teach suicide warning signs, strengthen clinical acumen and ensure community members know what to do and where to turn for help.

Heighten awareness and knowledge by blanketing the community with information – brochures, articles, information on websites, community presentations, booths at festivals and other vehicles.

Pilot different types of support options such as drop-in "safe space" gatherings, bereavement counseling, survivors of suicide loss groups. Beginning January 2020, the Grieving a Loss to Suicide group will be available.
When the community is silent, we perpetuate stigma, shame, and isolation. When we start a conversation, learn to recognize warning signs, and convey the message, you are not alone; there is help and hope – ultimately, lives are saved. This initiative represents a coordinated effort to engage in that conversation. Stay tuned for more information about ways that you can be part of the dialogue and learning.