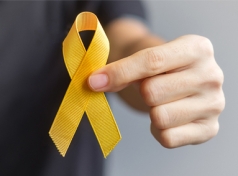 Suicide Awareness week will be observed September 4th through September 10th this year, with two goals:  
To raise awareness about the signs and risks of suicide.

To provide support for those who struggle with suicidal ideation and those grieving the death of a loved one from suicide.
Individuals can experience suicidal ideation at every stage of their life, and for many distinct reasons. Some have mental illness due to biological factors or developmental challenges. Others find themselves under unexpected financial strain such as unemployment, medical issues, or legal problems. Some suffer silently due to complex social or cultural factors. There can be sudden changes (like the end of a relationship), or long-lasting struggles such as abuse, addiction, or unaddressed mental illness.
If you are someone in crisis or concerned about someone who you believe to be in crisis, we now have an easy number to call or text to get help: 988.
988 is the number for the SAMHSA National Suicide & Crisis Lifeline. SAMHSA connects trained counselors with local providers in each state, to provide more direct support and resources to callers and their loved ones.
If you are an educator, business leader, parent, or Jewish professional, please help spread the word about the new national 988 number. Here are some additional resources:
Dr. Thomas Insel's

HEALING: Our Path from Mental Illness to Mental Health

is a reminder that long-term suffering is optional.  Despite the need for many improvements in our health-care systems, not seeking help and support due to stigma or discrimination is detrimental to all involved.

Calling JCFS Chicago at 855.275.5237 is a non-emergency way for consultation and referrals.

Christine Porath's

Mastering Civility

is a must-read if you want to enhance mental health and well-being in the workplace. This book explains how parents and educators can model age-appropriate emotional health when children are young and verbal. Taking these actions help standardize healthy and civil behaviors throughout their lifespans.

For organizational leaders, consider spending time on

www.sprc.org

for more on strategic planning approaches for prevention in your setting. 
Reminder:
You cannot put the idea of suicide into someone's head by asking if they are thinking about taking their life or wanting to die. The emotional pain is often masked, and if you smile, and say hello, and ask someone, "Are you okay?' it will come as a relief to them that you asked. The next steps are to stay with the person, respect their thoughts, reassure them you are not going to judge them and connect them to appropriate resources (if you believe them to be in crisis, call the new 988 number). For more about bringing Suicide Prevention Training to your community or organization, contact Ann Luban.