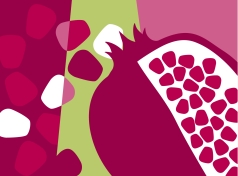 by Rabbi David Rosenberg, Coordinator of Jewish Educational Services
What is the significance of the fall Jewish holidays?  They are times for reflection, renewal, and celebration.
A happy, healthy, and sweet new year
The Jewish year begins with the first days of the Hebrew month of Tishrei, which usually falls in September and sometimes in early October.   The new year festival is called Rosh Hashanah, or 'head of the year.'  It is a time of introspection, commitment, and renewal.  In the synagogue, the lengthy prayers feature some beloved liturgical poems and the blowing of the shofar (ram's horn).  Many Jewish families eat auspicious foods, such as apples dipped in honey, in the hope that the coming year will be one of health and happiness.  JCFS offices will be closed for Rosh Hashanah on Monday, September 30 and Tuesday, October 1.  Like other holidays, Rosh Hashanah begins on the previous evening (in this case, Sunday, September 29) before sunset. 
Can fasting be joyous?
Rosh Hashanah inaugurates the Ten Days of Repentance, also known as the Days of Awe.  This period culminates with Yom Kippur, the Day of Atonement.  This, most solemn of the Jewish holidays, is marked by a complete fast and lengthy traditional prayer services.  At the conclusion of the holiday, a feeling of relief and possibility pervades.  JCFS offices will be closed for Yom Kippur from 3:00 pm onward on Tuesday, October 8 and on Wednesday, October 9.
Rejoice on your festival!
If Rosh Hashanah and Yom Kippur are introspective holidays of reflection and self-examination, Sukkot or "Tabernacles" is an extraverted holiday of celebration.  This 'season of our joy' gives thanks for our harvests—the fruits of our labors over the previous year.  Many families gather in the special booths or "sukkot" that give the holiday its name.   Four species of plants, including palm branch and citron, are taken with prayers for a year of life-giving rain. At the end of a week of celebration comes a concluding pair of festival days known as Shemini Atzeret (Eighth Day of Assembly) and Simchat Torah (Rejoicing in the Torah).  Simchat Torah is famous for traditional singing and dancing in celebration of the conclusion of the annual cycle of Torah (Pentateuch) reading.  JCFS offices will be closed for Sukkot on Monday, October 14 and Tuesday, October 15.  Offices will be closed for Shemini Atzeret/Simchat Torah on Monday, October 21 and Tuesday, October 22.
JCFS wishes a Happy New Year to everyone who is celebrating the fall Jewish holidays.  May the coming year be one of renewal and growth for our agency and all our clients.