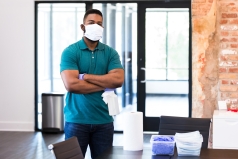 February is Jewish Disability, Awareness, Acceptance & Inclusion Month. In recognition, each week we will be highlighting a client success story. JCFS Chicago is proud to join Jewish organizations and communities to raise awareness and champion the civil rights of people with disabilities.
In 2012, Samuel was a recent high school graduate with little work experience. He was enrolled in a local college, but took a leave of absence. Unsure of his next steps, Samuel felt nervous about his future.  
That's when his Division of Rehabilitation Services (DRS) counselor referred Samuel to JVS Career & Employment. Samuel participated in an eight-week Janitorial Training Program offered by the Contracted Employment Services Department (CES). "The program offers both classroom instruction and hands-on paid training," Virginia Hopkins, the Assistant Director of Contracted Employment Services shared.
During training, Samuel displayed a strong motivation to work, exhibiting excellent attendance, punctuality and initiative. In addition to janitorial skills, he also learned to work with a supervisor and as part of a team.
After graduation, Samuel was offered a position at a CES contract site. CES has contracts with several state and federal buildings and provides them janitorial and administrative support. Positions at the contract sites are filled by workers with disabilities and each site has a dedicated vocational trainer and case manager who work with the employees. Although Samuel was hesitant to take the job, he agreed to try with encouragement from his family, his DRS counselor and CES staff members.
Samuel did well at the contract site, and eventually was transferred to a different contract site which offered increased pay and benefits. He gradually was able to purchase his own car and began to pick up extra hours at remote sites. He became a versatile worker who could be relied on to cover shifts and help out in a variety of settings.
After six years in the program, Samuel began to seek outside competitive employment. At first, he worked a part-time job in addition to his work with CES, but this became difficult to manage. However, juggling two roles gave him the confidence to keep working hard. He discussed his difficulties with his vocational trainer and case manager and used their feedback to improve his performance.
Eventually Samuel was able to maintain a part-time position outside of CES for an extended period of time. Recently, that role became a full-time position and Samuel left his CES job to accept it. His experiences at the CES contract sites helped him develop not only excellent janitorial skills, but the confidence to move on to the next stage of his career.