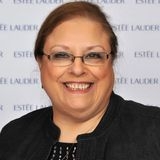 Having just survived the horrors of the holocaust, Rochelle Cueto's parents were living in post-war Germany, and neither parent wanted their child to become a German citizen. Without many options, her parents decided to emigrate to the United States, where they had family living in Chicago. At the time, having family members in the U.S. was not enough, so Rochelle's parents contacted Jewish Family Services in Chicago for help. They were settled in Lincoln, Nebraska and then on to Chicago, where Rochelle was born.
Soon after her birth, Rochelle's father became ill and was institutionalized for the rest of his life. Initially, the doctors thought it was schizophrenia, but he was later diagnosed with post-traumatic stress disorder from his experiences during the holocaust. At fifteen, Rochelle was removed from her mother's care due to child abuse. At that time there was no Department of Children and Family Services in Illinois, so Rochelle was turned over to what was then known as the Child Protective Agency. Her care was eventually entrusted to the Jewish Children's Bureau (JCB), a predecessor to JCFS Chicago, and they became her guardian. Rochelle was placed in a foster home in Rogers Park until she was nineteen.
Rochelle's time with the JCB was one of the most formative periods of her life. From learning how to maintain a budget and manage a checkbook, to participating in cultural activities, cooking and practicing Judaism, Rochelle's experience in foster care taught her real-life skills and gave her a sense of belonging. The attention and nurturing she received during this time had a significant impact on her and all that she learned remained with her long after she left their care.
Later in life Rochelle would rely on JCFS again when her son developed a drug problem and he was referred to our Response for Teens program. She was so impressed by their work with her son that a few years later when her sister and brother-in-law died, she took their two children under her care with the condition that they both attend grief counseling through Response. The support provided through Response was extremely helpful to both her niece and nephew. 
Rochelle is grateful for everything JCFS has done for her and her family at multiple stages of her life. Having worked for 35 years as a Chicago Public Schools teacher in socially and economically depressed areas, Rochelle knows that her life is not an anomaly. She knows there are others out there in the same situation or worse than her own. That is why she has made it her life's goal to give back when and where she can, both as a volunteer and a donor, and to teach her children to do the same. As the daughter of holocaust survivors, a former foster care child, and a retired teacher who guided many teens through trauma and grief, Rochelle understands first-hand the importance of investing in organizations like JCFS. "You have to give back because you're not alone in this world. If somebody hadn't been there to help me up, I wouldn't be where I am today," says Rochelle.