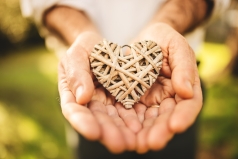 By Elana Boiskin, JCFS Chicago
I recently completed a Master's at Spertus Institute for Jewish Learning and Leadership and wrote my thesis on the emergence of Jewish community chaplaincy.  I was inspired to learn more about this topic because it's a growing professional field with a scarce amount of research. I'd like to share a few of my findings and reflections here.
To give some historical context, Jewish chaplaincy is rooted in sacred texts; it builds on older traditions of bikur cholim, the Talmudic commandment to visit the sick. Jewish chaplains haven't been around for long, however. The first Jewish chaplains can be traced to the American Civil War but greatly expanded in World War II, when about three hundred rabbis served in the U.S. military. After the war, chaplaincy programs started to appear around the country. In Chicago, for example, the Board of Rabbis and the Federation established a chaplaincy service in 1946. These early chaplains did not have specialized training, but by the late 1980's Jewish chaplaincy was becoming more professionalized.
This trend toward professionalization occurred for several reasons.  An expanding body of research has informed us that spiritual experiences are an important component of healing, and chaplains as spiritual care specialists, are necessary members of the health care team.  As well, the first professional organization, started in 1990, Neshama: Association of Jewish Chaplains (NAJC), requires advanced Jewish and clinical pastoral education (CPE) in order to become a member.  A Jewish chaplain must have CPE on top of a rabbinical ordination or graduate degree to be competitive as a chaplain today.  Due to the growing body of clinical evidence and the expansion of professional chaplaincy, several community chaplaincy programs have sprung up in the last few years, including JCFS Chicago's Jewish chaplaincy services. 
What is Jewish community chaplaincy?  It is spiritual care practiced by Jewish chaplains who typically work for a Jewish communal organization. Community chaplaincy has been described as distinct from the hospital chaplain, geriatric chaplain and end-of-life chaplain.  In a sense, the community chaplain embraces all those categories.  They visit with individuals and families experiencing, illness, loss, end-of -life or other challenges wherever they are most comfortable.  They offer programming to facilities for Jewish residents who are seeking to feel more at home. 
Despite the expansion of Jewish community chaplaincy, growth has been inconsistent. To get a sense of why, I conducted several interviews with leaders of prominent community chaplaincy programs around the country. I repeatedly heard that community members don't fully understand Jewish chaplaincy. Some common misconceptions are that all chaplains are priests, they proselytize, and are just there for end-of-life support.  The reality is that chaplains can be rabbis and can be helpful at any stage of life.  Chaplains are available to listen and journey along with each individual - regardless of their level of observance.    
Several of the leaders emphasized the extraordinary need for spiritual care across the Jewish community, especially as the numbers of people living in isolation continue to increase. The misconceptions coupled with insufficient funding are two factors that prevent Jewish communities from experiencing the clear benefits of spiritual care. I believe that we can address these challenges through the grassroots work of education and advocacy: telling the compelling stories about a chaplain's work and detailing the healthcare impact of spiritual care. Jewish chaplaincy represents a unique area of American Jewish cooperation, allowing individuals to express their fears and beliefs in a welcoming, safe and non-judgmental environment.  I hope we can continue to grow this remarkable profession.
If you would like to request a Jewish chaplain visit or more information about the JCFS Chicago's chaplaincy services, contact us at 855.275.5237 or Ask@JCFS.org.