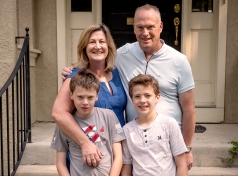 For Alex, a happy, energetic 12-year-old with social challenges, the pandemic brought his usually busy world to a halt. With no recreation or socialization outside of his home for the first six months of the pandemic, Alex regressed in many areas. He also has difficulty wearing a mask because of sensory issues. When JCFS Chicago's Respite services opened back up in July 2020, it was the first place Alex was able to go to have fun after months of isolation. "It was such a relief," said Jody, Alex's mom.
JCFS offers group Respite, where children with intellectual/ developmental disabilities (I/DD) can enjoy social and recreational activities with support from our dedicated staff and volunteers. The day is organized by the activities the children are interested in, which might include arts and crafts, games, reading books, sensory room activities, music, and more. When Alex comes to Respite, some of his favorite outdoor activities include the playground, playing catch, and learning to ride a bike with the help of staff and peers.
"We take a supportive, nurturing, and therapeutic approach to Respite," says Roberta Pieta, JCFS Respite Supervisor, "and provide a well-deserved break for families."
Jody says that Respite has been beneficial to their family's mental health. While Alex is at JCFS, Jody and her husband Eric get to spend time with Alex's twin brother. They go on long bike rides or grocery shopping together. "Our family really looks forward to the break from routine – especially Alex, it always puts a smile on his face. If he comes out sweaty, we know he had a good time!"
Even during Alex's low times, Roberta and her staff embrace his challenges to ensure that he enjoys himself while under their care. They are well-prepared with an individualized plan that supports Alex's engagement and participation at Respite. Roberta also provides Jody and Eric with regular updates about his progress.
Respite goals vary depending on the child and their needs. Some examples include children developing appropriate social interactions with peers, learning to communicate their needs through gesturing and picture cards, and responding appropriately to adult directives.
"We are ever grateful to JCFS and the incredible staff and volunteers that give up their Sunday afternoons to provide a safe, comfortable environment for Alex. Everyone is so welcoming and willing to look after him – they are a delightful group of people," adds Jody.
Make a donation today.