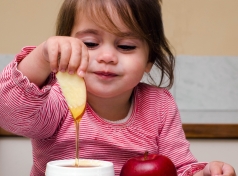 by Rabbi Joe Ozarowski, D. Min., BCC, Rabbinic Counselor and JCFS Chaplain
Our lives have been turned upside down during this pandemic in one way or another.  We have missed or adapted to life events such as Jewish holidays, weddings, graduations and funerals. Many of us are still trying to process our experiences. We are reflecting not only personally but as a nation, as a faith group, as a culture and as a Jewish community.
We are now facing yet another set of major Jewish Holidays in amidst this pandemic.  As we try to make sense of it, we may find an underlying theme:  Loss.  Not just the obvious loss of life.  But also loss of the way of life which we have known for some time - the ability to socialize freely, the mobility to travel, to see loved ones who live at a distance or even just a few blocks away.  Economic losses such as loss of income and jobs. Loss of our ability to spend leisure or hobby time, such as sports or movies.  We ought to acknowledge the other losses as well.  Working through loss is one way to move towards hope.
Perhaps we can use some of the rich Jewish tradition of mourning loss as a framework to look at and maybe understand what we are experiencing, especially at this time of year.
One of the major common themes of Jewish mourning and the Yamim Noraim, the Days of Awe, is that of memory and storytelling. One of Rosh Hashana's is Yom Hazikaron, the Day of Memory.  Yom Kippur includes the sacred and solemn Yizkor service, where we remember lost loved ones.  Many families will be having festive meals where memories will be shared.  The Jewish mourning traditions of Hesped (often translated as eulogizing but in this context better rendered as memory-gathering) and Shiva (where we share our memories with those who come to comfort us) emphasize similar themes.
What memories and stories will we take with us as we slowly move out of these months of Coronavirus?  How will we deal with our lack of inability to travel – to see loved ones, or just to vacation?  What about the changes to our economy and our economic well-being?  How will we tell our stories?  How we will integrate these memories and experiences into our lives?  What lessons can we take with us? 
For now, we may be observing the Fall Jewish Holidays with truncated services, or prayer and family gatherings via Zoom. One day we will be able to come together again.  Hopefully we will bring with us some lessons learned –finding blessings and opportunities amidst the challenges and difficulties, making use of platforms of which we did not even know, and more.  In the meantime, let us take our memories and stories with us.  How we navigate the process of grieving for what we have lost will help determine how we translate these losses into the life that awaits us after the pandemic subsides.