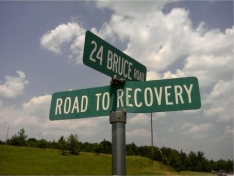 by Beth Fishman, Ph.D
Addiction is a disease that impacts our community and a disease that can be treated. Addiction Services were created to assist those in the path of addiction's immediate trauma and to help build caring communities that are aware of and responsive to the problem of addiction. Programs offered by the addiction services address specific needs of Chicago's Jewish community, and reflect best practices from across the country.
Most individuals and families struggling with addiction remain "under the radar". Creating community awareness and a culture of compassion reduces isolation and stigma, thereby encouraging affected community members to seek help. Addiction services can help you arrange a program that includes professionally-led educational presentations along with a local community member sharing his or her story of recovery.
We are actively engaged in encouraging synagogues to rent space to 12-Step meetings, so please let us know if your synagogue would like to be a part of this important trend!
If you or a loved one struggle with alcohol or other drug use, addiction services can provide support and education, help you explore your options, and find local or national resources. We provide case management services, supportive education groups, recovery skills training, rabbinic pastoral counseling, and support for 12-Step and other peer-led recovery programs such as SMART Recovery.
Jewish traditions, practices and prayer may enrich one's program of recovery.  To help members of the Jewish community connect 12-Step spirituality to Judaism and learn Jewish spiritual practices that can enhance abstinence, we offer Jewish 12-Stepping workshops, 12-Step Torah study, instruction on writing personal healing prayer, chesed meditation practice, and introductory workshops on Mussar.
Our services also include professional training to ensure that responsive settings exist within our community and across the continuum of treatment services. Examples of training opportunities are Jewish cultural and religious competence training for clinicians, co-sponsored programming with local treatment providers, specialized seminars on a variety of topics related to addiction, advanced clinical training on evidence-based practices and support for clergy to address at-risk congregants and create welcoming communities.  We are in the process of building a prevention coalition among Chicagoland Jewish organizations as well.  Please let us know if you'd like to be included.
Launching Addiction Services
Rabbi Rami Shapiro — author, media personality, and co-director of the One River Wisdom School ­— spoke on "The Blessings of Rock Bottom" at the inaugural event of the addiction services on Sunday, November 10 in Skokie.
Shapiro used the first three steps of the 12 Steps used in addiction recovery to challenge the recovery community's notions of what constitutes "Rock Bottom" and what recovering addicts can gain from it.
Affirming that the 12 Steps "speak to what is hounding us," Rabbi Rami used the story of Job from the Torah to illustrate the power of acceptance and willingness.  He said that when Job's wife suggests, "Why don't you just curse God and die?" Job asked her, "Shouldn't we accept the bad with the good?"
Also speaking at the inauguration of the addiction services were JCFS Chicago Executive Director Howard Sitron and Dr. Mark Slutsky of the Fund for Innovation in Health, the Jewish United Fund/Jewish Federation of Metropolitan Chicago fund that was instrumental in creating the addiction and misuse services.  Both expressed their enthusiasm and optimism for the efforts of the addiction and misuse services.
After Rabbi Shapiro's keynote address, there were group sessions, including Rabbi Shapiro's chanting session; a packed Jewish Mindful Meditation session led by Rabbi Sam Feinsmith; a Poetry and Prayer workshop with Betsy Fuchs; a 12 Step Torah Study led by Rabbi Joe Ozarowski, and Auricular Acupuncture for Cravings led by Rena Zaid.
Rabbi Shapiro led a healing circle to close the inauguration.
We are your addiction services.
For more information on addiction services, and to learn about prevention, help and hope, call Beth Fishman at 847.745.5422.