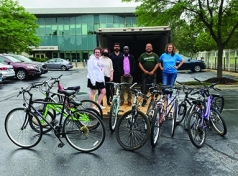 Where there is a wheel, there's a way to help. For years, multi-business owners Carrie and Ryan Gable hosted coat and food drives as well as donated funds to various non-profit organizations in the Schaumburg area. They had an idea to start their own charity while on vacation a few years ago.
Carrie explained, "We thought, gosh. We are so blessed. How can we do more of giving back, but we both agreed that we needed to do something that we love – that resonates with us."
Bikes & Music was launched in 2020. They collect used bicycles and musical instruments, refurbish them (which costs around $65), and get them to families via various nonprofits – including HIAS Immigration & Citizenship here at JCFS Chicago. In July, Bikes & Music donated 45 bicycles and helmets to families that are part of our Refugee Resettlement program. For some of these clients, it's about more than recreation.
Carrie said, "Our focus when we initially started was children. You know, let's help parents who don't have the means to furnish a bike, and now, it's turned into that and these wonderful people who have come to our country need it for transportation to have a job. So, it's really been humbling."  
With the help of their social network and volunteers, they spend countless hours fundraising along with driving to collect and deliver the bikes and instruments among other tasks. What gives her the will to keep going? Meeting the recipients – which doesn't happen often.
"We had two teachers from the south side in Chicago, and they came into our offices here to pick up instruments. We had 30 instruments for them. The one was like a kid in a candy store," Carrie recalled. "He said, 'I'm going to spend the weekend fixing these up, and these are going to be in the students' hands on Monday.' That just really resonated with me; to see how happy he was, it was awesome!"  
For more information, visit bikesandmusic.org, or email Carrie@bikesandmusic.org